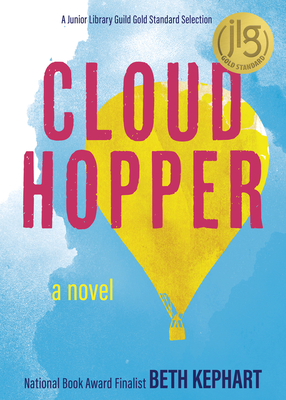 $17.99
Title is Backordered
Description
---
A Junior Library Guild Gold Standard Selection
When a girl in a homemade hot air balloon falls out of the sky in rural Gilbertine, there are questions: Who is this girl, where exactly did she come from, why won't she talk, and what has she risked to live in a country that does not seem to want her?
And what can Sophie, Wyatt, and K—three misfit best friends with complex and harrowing stories of their own—do to help the girl who can't trust those who want to help her? What should they do? As seen through the eyes of 14-year-old Sophie, who lives with her terminally ill grandmother, Cloud Hopper by National Book Award finalist Beth Kephart is a poignant, high-flying adventure set among the old planes, Vietnam vets, and majestic hot air balloons of a run-down municipal airport. It's about the rules we'll break and the dangers we'll face to do the most-right thing we can imagine, even when we're feeling long past brave.
About the Author
---
Beth Kephart is the award-winning author of nearly thirty books, a National Book Award finalist, an award-winning adjunct teacher of nonfiction and fiction at the University of Pennsylvania, and the cofounder of Juncture Workshops. Her essays and reviews appear in numerous publications, including the New York Times, Washington Post, Ninth Letter, North American Review, the Normal School, Chicago Tribune, Literary Hub, the Millions, Creative Nonfiction, and Brevity. She has given talks on a wide range of subjects across the country, worked with young readers and writers of all ages, gave a commencement address at Radnor High, where she is a Hall of Famer, and has been twice featured in exhibits at the Philadelphia International Airport. Her novels for younger readers—Wild Blues, This Is the Story of You, Going Over, and Undercover, among them—have received multiple starred reviews and appeared on many best-of lists. Beth frequently collaborates with her husband, the artist William Sulit, on illustrated books and journals, including Trini's Big Leap, a Penny Candy Books picture book. More about Beth can be found at bethkephartbooks.com. Beth lives in Pennsylvania.
Praise For…
---
"Kephart's lines are sensory and musical, leaning into zephyr and tempest winds with trust that the right words have magic. Here, a blueberry is not just a blueberry: it's a Wyatt blue, capable of intoxicating hungry souls toward compliance. A field is not just a field, but a place coined by ponds, dotted with colors, and alive with possibilities. Of the hopper's wreckage, Sophie observes: 'there is the stuff of her hopping machine, all that has been shattered in the forest. Rusty parts of rusted things. The patchwork balloon with its busted crooked seams'. These poetic plays ease the audience into the book's tougher topics, including loss and xenophobia. Sophie and company have a keen sense of what's right, even when it's the 'right wrong'. They know that immigrants are 'hardly different from the rest of us—all of us missing something', and they work hard to protect their new friend. Shared secrets have the power to set young dreamers free in the awe-inducing story Cloud Hopper."—Foreword Reviews
"A moving story about what makes a family and making a home wherever you end up."—Kirkus Reviews
"After 14-year-old Sophie and her two best friends, K and Wyatt—all living with adoptive caretakers near a rural municipal airport—see a girl piloting a solo hot air balloon, a cloud hopper, fall from the sky in a sudden storm, they rush to help her. When she doesn't speak, they try everything to learn more—visiting her in the hospital, searching the crash site, bribing the hospital staff with Wyatt's blueberry confections, and doing reconnaissance to determine the hopper's provenance. As Sophie's grandmother's multiple sclerosis progresses and Wyatt uncovers something painful from her own past, the three friends face the inevitable hard truth that to save the girl, they must leave her be. In lyrical prose that conveys moving interpersonal relationships, Kephart (The Great Upending) creates a quirky group with a capacity for friendship that amuses and endears, and provides a nuanced look at immigration and found family. Soft sketches by Sulit depict the characters and picturesque setting."—Publisher's Weekly