Physics: Try This at Home: Do it yourself physics for the fearful (Paperback)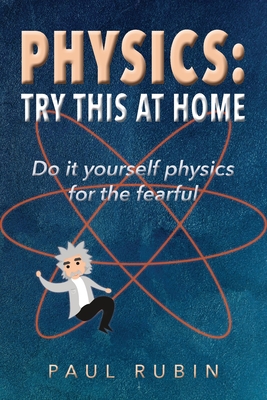 $19.99

Usually Ships in 1-5 Days
Description
---
Physics is one of the most interesting and exciting subjects of study yet many people are scared of, and intimidated by, physics. It doesn't have to be this way Wouldn't it be great to learn the most important ideas in physics by doing simple, fun activities that promote and reinforce your learning?
We experience and use physics in virtually every activity in our lives. Why not take advantage of our experiences to make learning easy? Physics: Try This at Home, presents over 50 simple "hands on" activities, that clearly illustrate key physics concepts. At the same time, math and problem solving are kept to a minimum. This is an introduction to the subject, not a textbook. It is fun, not boring. The reader gets to do stuff, not just study. There are plenty of books that try to cover everything on the subject, and end up overwhelming readers. Physics: Try This at Home takes the opposite approach. It introduces the most important physics ideas in a conversational tone and encourages readers to experiment to understand these ideas.
Who can benefit from this approach?
- High school and home school students who will be taking their first physics class. Perhaps they have struggled in other science and math classess or they've heard physics is tough, or they want to give themselves an early and easy exposure to the concepts they will use in class.
- Adults who want to learn something about physics but have been scared off by the technical language and apparent dependence on equations and problem solving that is the focus of other physics books.
- Bright middle school students who are interested in science and want to start learning more physics than their survey classes offer.
- Anyone who wants to understand the connection between physics and their everyday experiences.
So, Try This at Home You'll be glad you did.