Woman, Captain, Rebel: The Extraordinary True Story of a Daring Icelandic Sea Captain (Paperback)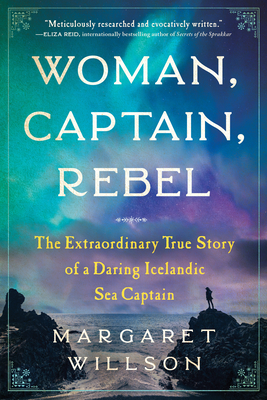 $16.99

Usually Ships in 1-5 Days
Description
---
A daring and magnificent historical narrative nonfiction account of Iceland's most famous female sea captain who constantly fought for women's rights and equality—and who also solved one of the country's most notorious robberies.
Every day was a fight for survival, equality, and justice for Iceland's most renowned female fishing captain of the 19th century.
History would have us believe the sea has always been a male realm, the idea of female captains almost unthinkable. But there is one exception, so notable she defies any expectation.
This is her remarkable story.
Captain Thurídur, born in Iceland in 1777, lived a life that was both controversial and unconventional. Her first time fishing, on the open unprotected rowboats of her time, was at age 11. Soon after, she audaciously began wearing trousers. She later became an acclaimed fishing captain brilliant at weather-reading and seacraft and consistently brought in the largest catches. In the Arctic seas where drownings occurred with terrifying regularity, she never lost a single crewmember. Renowned for her acute powers of observation, she also solved a notorious crime. In this extremely unequal society, she used the courts to fight for justice for the abused, and in her sixties, embarked on perilous journeys over trackless mountains.
Weaving together fastidious research and captivating prose, Margaret Willson reveals Captain Thurídur's fascinating story, her extraordinary courage, intelligence, and personal integrity.
Through adventure, oppression, joy, betrayal, and grief, Captain Thurídur speaks a universal voice. Here is a woman so ahead of her times she remains modern and inspirational today. Her story can now finally be told.
Praise for Woman, Captain, Rebel:
"Meticulously researched and evocatively written, Woman, Captain, Rebel provides not only a captivating insight into 19th-century Iceland, but also introduces readers to the inspirational, real-life fishing captain Thurídur, a tough and fiercely independent woman who deserves to be a role model of determination and perseverance for us all." —Eliza Reid, internationally bestselling author of Secrets of the Sprakkar
"A crime has been committed in 19th century Iceland and in steps a mysterious seawoman moonlighting as a detective, dressed in male clothes. Margaret Willson unravels this legendary casework of Captain Thurídur, down to the finest detail, with a brilliant portrait of old Iceland by the sea." —Egill Bjarnason, author of How Iceland Changed the World
"Reading about this remarkable woman's journey will challenge your ideas about history and change yours too." —Major General Mari K. Eder, author of The Girls Who Stepped Out of Line
"All credit to Margaret Willson for excavating the story of Thurídur Einarsdóttir in a century which can at long last appreciate this feisty and resilient Icelandic seafarer. The meticulous research is worn so lightly that it reads like a saga." —Sally Magnusson, author and broadcaster
"A beautiful story of one woman's perseverance against tragedy, hardship, and the open seas." —Katharine Gregorio, author of The Double Life of Katharine Clark
"With a clear, compelling narrative voice, Willson illuminates the life of an extraordinary woman and brings rural Iceland to life for her readers." —Shelf Awareness
About the Author
---
MARGARET WILLSON is a writer and cultural anthropologist. She has traveled extensively, working, doing research, or ethnographic film in Papua New Guinea, Brazil, Mongolia, Australia, New Zealand, Iceland...and a number of other places. She currently lives in Seattle with her partner and their cat Mister.
Praise For…
---
"Meticulously researched and evocatively written, Woman, Captain, Rebel provides not only a captivating insight into 19th-century Iceland, but also introduces readers to the inspirational, real-life fishing captain Thurídur, a tough and fiercely independent woman who deserves to be a role model of determination and perseverance for us all." — Eliza Reid, internationally bestselling author of Secrets of the Sprakkar

"A chance encounter on a windswept isle. A weathered plaque in an ancient community that revealed a secret. Then the door opened up to the past and the story came tumbling out, saved by the Icelandic storytelling tradition. As the author says, learning about Thurídur, an 19th century fishing captain changed her life. Reading about this remarkable woman's journey will challenge your ideas about history and change yours too." — Major General Mari K. Eder, author of The Girls Who Stepped Out of Line

"All credit to Margaret Willson for excavating the story of Thurídur Einarsdóttir in a century which can at long last appreciate this feisty and resilient Icelandic seafarer. The meticulous research is worn so lightly that it reads like a saga." — Sally Magnusson, author and broadcaster

"A beautiful story of one woman's perseverance against tragedy, hardship, and the open seas." — Katharine Gregorio, author of The Double Life of Katharine Clark

"Willson skillfully tracks and dramatizes the astonishing saga of fishing captain Thurídur Einarsdóttir, a nineteenth-century Icelandic hero. Woman, Captain, Rebel draws upon both the author's rich imagination and available historical evidence on Thurídur's life, crafting a remarkable and moving story of a woman of integrity who fought against all odds, rough seas and a hostile society. Thurídur finally receives the recognition she deserves, and fishing no longer admits the North-Atlantic cliché about the absence of women at sea." — Gísli Pálsson, Professor Emeritus of Anthropology, University of Iceland

"Only recently have women in authority at sea been treated with respect. That's why Willson's knowledgeable reconstruction of Captain Thuridur Einarsdóttir life is so valuable. You'll be amazed at all the vicissitudes faced by a principled, kindly and anomalous pioneer on the fishing industry's margins. This well-researched book gives a new meaning to the term Icelandic sagas and a deeply unexpected angle to our understanding of women's early maritime past." — Dr. Jo Stanley, historian

"Gender nonconforming, a legal gadfly on behalf of the vulnerable, an amateur sleuth, a skilled navigator, and a leader of men, Thurídur was a person of extraordinary accomplishments. How many such stories have been lost? What a gift that Willson has written this one for us." — Andrea Pitzer, author of Icebound

A compelling read and a parable of a life well lived despite overwhelming odds, Woman, Captain, Rebel is a book we all need now. — Caroline Van Hemert, Ph.D., award-winning author of The Sun is a Compass

Woman, Captain, Rebel is an adventure story with a woman at the center of it, a compelling portrait of a life marked by compassion, resourcefulness, and resilience. — Anne Gardiner Perkins, Ph.D., award-winning author of Yale Needs Women

As it's so beautifully written, it will just as easily appeal to a casual reader hoping for a good tale of adventure and an unconventional life lived two centuries ago in rural Iceland. — Courtney Carothers, Ph.D., professor, College of Fisheries & Ocean Sciences, University of Alaska Fairbanks

The book speaks to wider issues of gender and equity through the empowering actions of Captain Thurídur and is a joy to read, leaving one inspired and enlightened. — Níels Einarsson, Ph.D., Director, Stefánsson Arctic Institute, Iceland

This is an extraordinarily rich account of community life and culture, set in the vivid context of Icelandic land and seascape where lives may change at any second. — Fiona McCormack, Ph.D., fisheries anthropologist, University of Waikato, Aotearoa/New Zealand

"Thurídur started fishing at age nine, wearing trousers that were forbidden to her gender. She became a captain in a profession where there were no women, successfully advocated for herself and other women using the courts, and proved herself to be a detective in a long unsolved case. Reading about Thurídur gives a glimpse into the harsh and sometimes cruel history of a country not so far away." — Booklist

"This earthy portrait will win its subject plenty of new fans... Willson draws from Iceland's rich storytelling tradition to evoke Thurídur's intelligence, courage, and "pithy wit" and to describe life in the island's rural communities." — Publishers Weekly

"Through rich details and beautiful sometimes poetic prose, Willson honors this remarkable, yet nearly forgotten, heroine. Willson's account moves at the pace of a page-turning novel… This exceptional biography does justice to the life of a unique woman, captain and rebel. Highly recommended." — Historical Novel Society

""Exhaustively researched and rich with period detail, the book is a wealth of information as well as a fascinating story." — The Denver North Star" — The Denver North Star