The Heart of Splendid Lake (MP3 CD)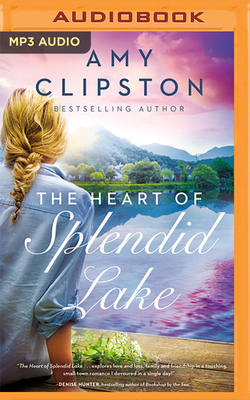 $16.99
Title is Backordered
Description
---
Bestselling author Amy Clipston transports readers to a picturesque lakeside town in this heartwarming contemporary romance.
Brianna is the youngest of the three Porter sisters and the only one who chose to stay in the small town of Splendid Lake, North Carolina. She followed in her father's footsteps and became an expert boat mechanic, helping him run their small resort with cabin rentals, a convenience store, and a marina.
When Brianna's father unexpectedly dies, Brianna is steeped in grief and guilt--then left alone to clean up the mess. To make matters worse, a constant stream of real estate brokers begins marching through her property, offering to buy the family land. In particular, she keeps running into handsome real estate mogul Scott Gibson.
As Brianna struggles to keep it all together, Scott finds his way into her heart. And as the two fight against their feelings, they just might find themselves forging a surprising and exciting new love at Splendid Lake.
"A touching story of grief, love, and life carrying on, The Heart of Splendid Lake engaged my heart from the very first page. Sometimes the feelings we run from lead us to the hope we can't escape, and that's a beautiful thing to see through the eyes of these winning characters. Amy Clipston deftly guides readers on an emotionally satisfying journey that will appeal to fans of Denise Hunter and Becky Wade." --Bethany Turner, award-winning author of Plot Twist
"The Heart of Splendid Lake offers a welcome escape in the form of a sympathetic heroine and her struggling lakeside resort. Clipston proficiently explores love and loss, family and friendship in a touching, small-town romance that I devoured in a single day " --Denise Hunter, bestselling author of The Bluebell Inn series
Sweet and thoughtful contemporary read
Stand-alone novel
Book length: 93,000 words