Our Modern Blended Family: A Practical Guide to Creating a Happy Home (MP3 CD)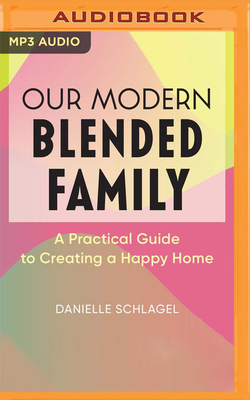 $19.99
Title is Backordered
Description
---
Embrace the adventure ahead with your new blended family - an inclusive approach.
Blended is beautiful. But, as one of the 1,300 new stepfamilies forming in the US every day, you know that there are always obstacles to overcome. Our Modern Blended Family can help - celebrating your family's diversity while delivering practical advice, common-sense strategies, and handy tips to help you - and your partner - create a happy, healthy blended family. Together.
Written by Danielle Schlagel, a licensed counselor who focuses on blended families (and a proud stepparent herself), this inclusive, secular guide is perfect for all beliefs and backgrounds. It tackles tough domestic situations like a deceased parent, divorced parents, and uncooperative ex-spouses and children. Our Modern Blended Family is a smart, sensible approach to modern parenting.
Inside you'll find:
Smart, simple solutions - You'll discover ideas that work for your blended family, regardless of faith, identity, or personal background.
An inclusive approach - Perfect for all types of diverse relationships and parenting situations, including same-sex couples.
Real talk - Even difficult topics like reluctant exes and kids are covered.
Discover how you can achieve lasting harmony in your home with Our Modern Blended Family