Dark Carnival: The Secret World of Tod Browning, Hollywood's Master of Macabre (CD-Audio)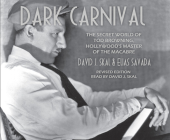 $35.99
Title is Backordered
Description
---
One of the most original and unsettling filmmakers of all time -- the
creator of the horror classics Dracula and Freaks, among others-- Tod Browning is also one of the most enigmatic directors who ever worked in Hollywood.  A complicated, troubled, and fiercely private man, he confounded would-be biographers hoping to penetrate his secret, obsessive world -- both during his lifetime and afterward.

Now, film historians David J. Skal and Elias Savada, using newly discovered family documents and revealing published interviews with friends and colleagues, join forces for the first full-length biography of the man who earned a reputation as "the Edgar Allan Poe of the cinema."  The authors
chronicle Browning's turn-of-the-century flight from an eccentric Louisville family into the world of carnival sideshows (where he began his career literally buried alive) and vaudeville, his disastrous first marriage, his rapid climb to riches in the burgeoning silent film industry, and the alcoholism that would plague him throughout his life.  Browning's legendary collaborations with Lon Chaney, Sr., and Bela "Dracula" Lugosi are explored in depth, along with the studio politics that ended his career after the bizarre circus drama Freaks -- a cult classic today -- proved to be one of the biggest box-office disasters of the early thirties.
About the Author
---
David J. Skal is a respected scholar of all things macabre. A frequent talk-show guest and lecturer, his many media appearances include "The CBS Evening News," " Joan Rivers," "Charlie Rose," and NPR's "All Things Considered." He is the author of The Monster Show, Hollywood Gothic, and Dark Carnival. He has written, produced and appeared in a variety of film and television documentaries on occult and pop-culture subjects.

Elias Savada is an American film historian and critic. Since 1977, he has owned and operated the Motion Picture Information Service, which has provided customized copyright research reports to over 1,200 clients. Wikipedia