Sonic the Hedgehog: Imposter Syndrome (Paperback)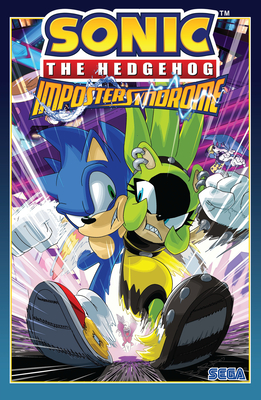 Description
---
Rivals, fakers, and doppelgängers have been scourges to Sonic for years, but Dr. Starline's newest creations pose an entirely new threat.

New challengers Surge and Kit were designed for a single purpose: to replace Sonic and Tails as the world's greatest heroes! And that means it's not just the Blue Blur and his friends who should be wary—Dr. Eggman better watch out too!

But has Dr. Starline gone too far this time? Will his master plan succeed, or will these imposters prove impossible to control? One thing's for sure: Surge and Kit mean to make a splash, and Sonic's world will never be the same!

Collects the complete four-issue mini-series.

About the Author
---
Ian Flynn is a freelance writer for multiple forms of media. He's also "that Sonic guy" as his portfolio of Sonic the Hedgehog work makes abundantly clear. He was born and raised in Charlotte, North Carolina and is currently based out of Toronto, Ontario, with easy business ties to both sides of the border. In addition to writing, he's part of a podcast/gaming channel series called the BumbleKast.
Praise For…
---
"Essential Sonic reading...Readers of all ages are bound to enjoy." —ComicBook.com

"Hits the ground running at supersonic speed. Great character writing, fun storytelling, stellar artwork... this series remains a must-read for Sonic fans." —AIPT