My Little Pony/Transformers: Friendship in Disguise (Paperback)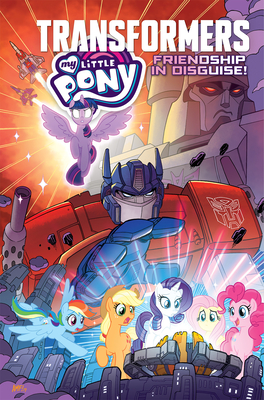 $15.99
Title is Backordered
Description
---
The Mane Six, Autobots, and Decepticons mix it up in this graphic novel mashup!

When Queen Chrysalis casts a spell looking for more changelings, she accidentally interferes with a malfunctioning Spacebridge! What's this mean for our favorite fillies? There are suddenly a bunch of Autobots and Decepticons in Equestria! And as the dust settles, Rarity and Arcee find themselves teaming up against a hostile Decepticon force.

Plus Spike and Grimlock; Pinkie Pie, Gauge, and Shockwave; Fluttershy, Discord, and Soundwave; Rainbow Dash and Windblade; and Optimus Prime and Twilight Sparkle all team up for more adventures.

By writers Ian Flynn, James Asmus, and Sam Maggs and artists Tony Fleecs, Jack Lawrence, Sara Pitre-Durocher, Casey W. Coller, and Priscilla Tramontano.
About the Author
---
Ian Flynn is a freelance writer for multiple forms of media. He's also "that Sonic guy" as his portfolio of Sonic the Hedgehog work makes abundantly clear. He was born and raised in Charlotte, North Carolina and is currently based out of Toronto, Ontario, with easy business ties to both sides of the border. In addition to writing, he's part of a podcast/gaming channel series called the BumbleKast.

James Asmus is an award-winning writer originally from Cleveland, OH. He has written comics, theater, TV, animation, and more. His comic book work includes Gambit, Thief of Thieves, Kong of Skull Island, Evolution, The End Times of Bram & Ben, and Quantum & Woody-which earned him five Harvey Award nominations, including Best Writer. He currently lives in Portland, OR with his wife and two awesome kids.
Praise For…
---
"A fast, fun, well-drawn and colorful all-ages comic that could appeal to young readers, cartoon fans and comic readers alike." —Major Spoilers

"Wildly entertaining!" —Comics The Gathering

"Friendship in Disguise is a terrific, easy read for anyone of any age." —Pastrami Nation