Splitting: Protecting Yourself While Divorcing Someone with Borderline or Narcissistic Personality Disorder (Paperback)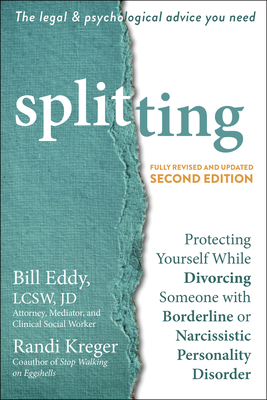 $19.95

Usually Ships in 1-5 Days
Description
---
This highly anticipated second edition of Splitting includes new chapters on abuse, alienation, and false allegations; as well as information about the four types of domestic violence, protective orders, and child custody disputes.
Are you divorcing someone who's making the process as difficult as possible? Are they sending you nasty emails, falsifying the truth, putting your children in the middle, abusing you, or abusing the system? Are they "persuasive blamers," manipulating and fooling court personnel to get them on their side? If so, you need this book.
For more than ten years, Splitting has served as the ultimate guide for people divorcing a high conflict person, one who often has borderline or narcissistic (or even antisocial) personality disorder. Among other things, it has saved readers thousands of dollars, helped them keep custody of their children, and effectively guided them through a difficult legal and emotional process.
Written by a family law attorney and therapist, and the author of Stop Walking on Eggshells, Splitting is an essential legal and psychological guide for anyone divorcing a persuasive blamer: someone who suffers from borderline personality disorder (BPD), narcissistic personality disorder (NPD), and/or antisocial personality disorder (ASPD). This second edition includes new information about antisocial personalities; expanded information about domestic violence, child abuse, alienation, and false allegations; how to approach protective orders and deal with child custody disputes; and a new chapter on how to successfully present your case to decision makers.
Turn to this guide to help you:
Predict what your spouse may do or say in court
Take control of your case with assertiveness and strategic thinking
Choose a lawyer who understands your case
Learn how e-mails and social networking can be used against you
If you need help navigating a high-conflict divorce from a manipulative spouse, this book includes all of the critical information you need to work through the process of divorce in an emotionally balanced, productive way.
About the Author
---
Bill Eddy, LCSW, JD, is a family lawyer, therapist, and mediator in San Diego, CA. He is cofounder and chief innovation officer at High Conflict Institute, and trains lawyers, judges, mediators, and counselors worldwide in respectfully managing high-conflict disputes and personalities. He is author of sixteen books, developer of the New Ways for Families(R) method for separation and divorce, and blogger for Psychology Today with more than five million views. His website is www.highconflictinstitute.com. Randi Kreger is author of three books about borderline personality disorder (BPD), including Stop Walking on Eggshells. She is creator of www.StopWalkingOnEggshells.com; and runs the online support group, Moving Forward. She publishes specialized CDs and other materials about BPD, which are available on her website.