Prince Valiant Vol. 27: 1989 - 1990 (Hardcover)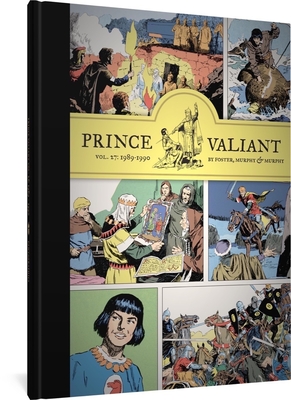 $39.99

Coming Soon - Available for Pre-Order Now
Description
---
The action never lets up in the 27th volume of Fantagraphics' exquisite reprinting of Hal Foster's masterpiece, as Val embarks upon another treacherous journey that will test his mettle.
On a quest in the Asian lands of Cathay, Prince Valiant encounters a fire-breathing mechanical dragon and the legendary adventurer Prester John. Armies converge, mountains crumble, and a father and son are reunited. Mordred escapes imprisonment and treacherously stabs Arn, who learns that Maeve is soon to give birth. Val discovers a lost colony and wrestles with a tusked whale off the coast of Greenland, but a spell overcomes the expedition on the Isle of Lost Youth. Plus: an introduction by Turkish/German artist Ertugrul Edirne and behind the scenes of a heavy-metal interpretation of
Prince Valiant
. 
About the Author
---
Hal Foster (1892-1982) created Prince Valiant in 1937. Though remaining involved with the strip until his death in 1982, Foster handed the bulk of the scripting and art chores over to his longtime assistant, John Cullen Murphy, in 1971.

John Cullen Murphy, a six-time recipient of the National Cartoonists Society's "Best Story Strip" for his work on Prince Valiant, continues to draw the strip from his home in Connecticut, while his son, Cullen Murphy, writes the strip in between serving as the Managing Editor for The Atlantic.

Cullen Murphy served as managing editor for The Atlantic from 1985–2006 and is currently an editor at large for Vanity Fair. Beginning in the 1970s, Murphy collaborated with his father, John Cullen Murphy, on the Prince Valiant comic strip.