Otto Binder's The Unwanted (Hardcover)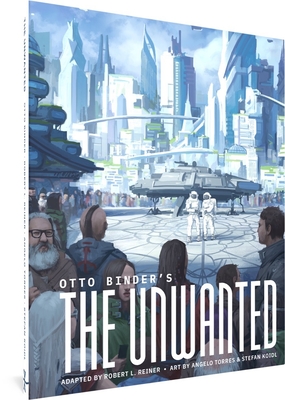 $25.00
Title is Backordered
Description
---
Judgment Day for Earth
The Mastermen called it a "census," but it was so much more. If its citizens proved worthy, the Earth would join the interstellar confederation and reap the benefits of advanced alien technology, food, medicine, and educational resources the likes of which could scarcely be imagined.
But first, there was the question of race ...
Uncannily perceptive and prescient when it was written in 1953, EC writer Otto Binder's The Unwanted went unsold for more than a decade until he finally gave it to a fanzine publisher who promptly got out of the fanzine business — and so it languished, unread, in a yellowing file folder for decades.
Never before published and now unearthed, The Unwanted is Binder's response to the 1950s McCarthy era, couched in metaphorical science fiction terms. Fantagraphics Underground Press ushers in this previously unknown mini-masterpiece by the writer of Captain Marvel, Superman, Captain America, and the "human" robot, Adam Link. Illustrated by EC artist Angelo Torres and his international collaborator Stefan Koidl, this edition pays homage to Binder's comics career.  The result is a stunning tribute to Binder's lifelong commitment to comics and prose.
An unbelievable journey, unavailable no longer.
About the Author
---
Otto Binder (1911-1974) wrote many science-fiction stories for early pulps, with "I, Robot" (Amazing Stories, January 1939) the best known. From 1939, he became hugely prolific in superhero comics, penning over half the total adventures of the Captain Marvel / Shazam extended universe for Fawcett Comics, writing most of the major characters at Timely (later Marvel) and Quality Comics, and co-creating dozens of DC Comics staples including the Legion of Super-Heroes, Supergirl, and Krypto the Super-Dog. His interest in science-fiction was motivated by a passion for space, and in later years he wrote speculatively about UFOs and edited Space World, a magazine about astronomics.

A passionate young SF and comics fan, Robert L. Reiner published his own fanzine as a teen, before transferring that interest to the school newspaper. After fifty years in grown-up business, he is thrilled to return to his roots in shepherding The Unwanted into print. In 2021, he facilitated an exhibition of Angelo Torres art at the Society of Illustrators, NYC.

One of the youngest contributors to EC Comics, Angelo Torres (b. 1932, Puerto Rico) is now the last man standing from the crew whose work created the first great American comics publisher. He followed his early work there with mystery stories for Atlas (later Marvel) in the 1950s, and horror and war stories in Creepy, Eerie, and Blazing Combat for Warren Publishing in the 1960s. His versatility and skill found a lasting home in the EC-descended MAD magazine, caricaturing and cartooning the TV parodies in nearly every issue from 1969-1980, and continued to contribute until 2005.

Stefan Koidl is a freelance illustrator, concept designer, digital painter and committed Krampus mask carver living in Austria. He has worked for Dark Horse Comics, Rhino Games, Ravensburger and more. In 2021, his first book, The Art Of Stefan Koidl, was successfully crowdfunded; extending the engagement with his audience, it included stories written by members of his fanbase, inspired by Koidl's art.