Unplug and Play: The Ultimate Illustrated Guide to Roughhousing with Your Kids (Hardcover)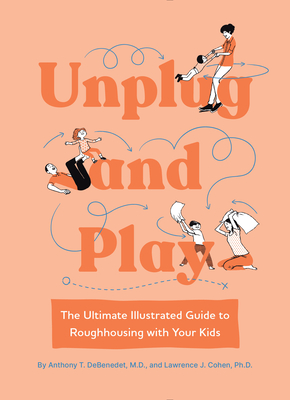 $17.99

Usually Ships in 1-5 Days
Description
---
"An inspired defense of roughhousing! I guarantee that if you read just a few pages of this book, you'll be down on the floor wrestling and laughing with your children."—Michael Thompson, co-author of the national best seller Raising Cain: Protecting the Emotional Life of Boys

Learn how rough-and-tumble play can nurture relationships, lead to closer connections, encourage resilience, and boost confidence in kids—with 45 illustrated activities to get you started.
Every kid needs horseplay! Roughhousing is an essential part of childhood development—but it is increasingly overshadowed by screens and structured activities. In
Unplug and Play,
a doctor and a child psychologist, both dads, introduce parents to the benefits of physical play for young children. 
Drawing from gymnastics, martial arts, ballet, team sports, and even animal behavior, the authors present fun full-contact  activities for parents and children to enjoy together, including:
Human Cannonball
Magic Carpet Ride
Steamroller
Jousting
Raucous Pillow Fight
And more!
With activities for everyone from toddlers to kids ages 12 and up, you'll build a foundation for a lifetime of enriching physical play.
Previously published as T
he Art of Roughhousing
, this updated edition incorporates new child development research and addresses the changing role of screen time.
About the Author
---
Anthony T. DeBenedet, M.D. is a practicing physician, behavioral-science enthusiast, and energetic dad. His interviews and writings on play, health, wellness, and behavior have appeared in multiple major media outlets. He is the author of Playful Intelligence: The Power of Living Lightly in a Serious World. He lives in Ann Arbor, Michigan.
 
Lawrence Cohen, Ph.D. is a licensed psychologist, author, and consultant living in Portland, Oregon. He is a regular contributor to Psychology Today and the author of The Opposite of Worry, a book for parents about childhood anxiety and fears, and Playful Parenting, an award-winning book about nurturing close connections, solving behavior problems, and encouraging children's confidence. He specializes in children's play and play therapy.
Praise For…
---
"An inspired defense of roughhousing! I guarantee that if you read just a few pages of this book, you'll be down on the floor wrestling and laughing with your children."—Michael Thompson, co-author of the national best seller Raising Cain: Protecting the Emotional Life of Boys 

"Two dads offer the perfect antidote to helicopter parenting."—Washington Post

"Enthusiastically recommended." Starred review—Library Journal