The Ultimate Basketball Trivia Book: 600 Questions for the Super-Fan (Paperback)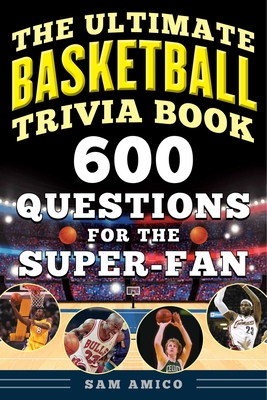 Description
---
Test yourself and your friends! Fans of the Warriors Raptors, Lakers, Celtics, the UNC Tar Heels, Duke Blue Devils, UCLA Bruins, Kentucky Wildcats, and every other great pro or college team will be puzzled, challenged, and amused by these questions and answers about the NBA, NCAA, WNBA, and everything in between.  
In this collection of 600 questions, Sam Amico tests your level of expertise on all things basketball. Every era of basketball history is represented, from Bob Cousy to Chris Paul, Moses Malone to Joel Embiid, Michael Jordan to LeBron James, Wilt Chamberlain to Shaquille O'Neal ,and everyone in between. Some of the many questions that Amico poses include:  
Who was the inventor of the game of basketball (called "Basket Ball") and how many original rules were written by the game's founder?
What player scored the most points in an NCAA Tournament Game?
Who was the first international player to be inducted into the Hall of Fame?
Can you name the four ABA teams that joined the NBA in 1976?
From the Celtics dynasty to the most exciting Final Four games of all time, from Magic Johnson and Larry Bird to Stephen Curry and James Harden, here is the definitive test for knowledgeable basketball fans!
About the Author
---
Sam Amico is a former NBA reporter for FOX Sports and Cleveland Cavaliers beat writer for FOX Sports Ohio. His coverage of the league has appeared in the New York Post, Boston Herald, and USA Today. He currently runs AmicoHoops.net and lives in Medina, Ohio, with his wife Katie and their three sons.