Luscious, Tender, Juicy: Recipes for Perfect Texture in Dinners, Desserts, and More (Hardcover)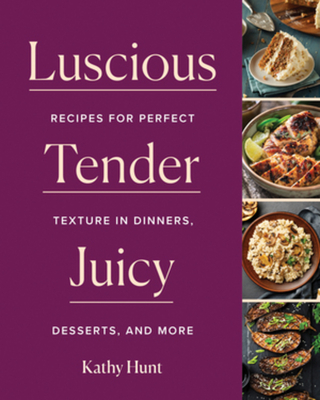 Description
---
Cooking methods for mastering the perfect, satisfying texture each and every time.
Succulent shrimp, juicy steak, vegetables bursting with fresh flavor—the secret to cooking exceptional food is keeping it luscious and tender. In this technique-focused guide to delectable dishes, Kathy Hunt delivers recipes for global appetizers, mains, sides, desserts, and sweet baked goods. Written for novice and accomplished cooks alike, this masterclass in texture inspires an appreciation for the skills needed to craft exquisite mouthfeel, an often overlooked facet of cooking.
From stir-frying noodles and sautéing fish to grilling delicate vegetables and roasting hearty meats, Luscious, Tender, Juicy covers a wealth of preparation techniques. Hunt explains how to keep food tender and flavorful, an essential aspect of delectable food. The final two chapters, "Luxurious Cakes, Pies, and Puddings" and "Velvety Cookies, Pastries, and Breads," focus on sweets that wouldn't be enjoyable (or even edible) if they weren't fluffy, molten, or gooey.
About the Author
---
Kathy Hunt is the author of Herring: A Global History and Fish Market. She has written features and recipes for publications including the Chicago Tribune, Reuters, and Taste of Home. Kathy blogs at KitchenKat.com and divides her time between New York City and suburban Philadelphia where she teaches farmhouse cooking classes.