Growth Mindset Journal for Boys: A Space to Embrace Challenges, Set Goals, and Dream Big (Paperback)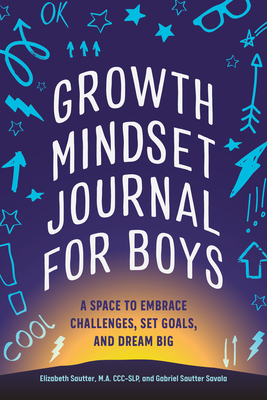 $14.99

Usually Ships in 1-5 Days
Description
---
Help boys 8 to 12 discover all the amazing things they can do
A growth mindset is the belief that you can always grow and improve through practice and a positive outlook. This colorful boys' journal gives young boys the tools to develop a growth mindset for themselves! Through short writing prompts and simple activities, they'll learn how they can become stronger, braver, and happier just by changing the way they think.
This boys' journal helps them:
Reflect positively—Boys will dive into questions and quizzes that show them how to identify strengths, move past mistakes, and appreciate all their incredible qualities.
Dream and succeed—This boys' journal gives them the confidence to try new things and tackle any adventure with excitement.
Set goals—Boys will learn how to conquer challenges and take healthy risks by setting manageable goals and creating effective plans.
Guide boys to a growth mindset with a journal that helps them become more flexible and resilient.
About the Author
---
"
ELIZABETH SAUTTER, M.A. CCC-SLP, is an author and speech and language pathologist. She is also one of the founders and owners of Communication Works, a multidisciplinary center known for individual and group therapy for all ages.

GABRIEL SAUTTER SAVALA is Elizabeth's son and a middle school student. He was excited to be asked to co-author this journal so that he could share his insight from a boy's perspective.
"
Praise For…
---
"What a great team! Elizabeth and her son, Gabe, have created a fantastic resource for boys to explore their emotions in a fun and engaging way in this journal." —Rebecca Branstetter, Ph.D., founder of The Thriving School Psychologist Collective

"This is a one-stop shop of powerful and interactive activities to nurture boys' social emotional competence and give them the growth mindset tools they need to navigate the ups and downs of growing up and beyond. What a gem to support your work with boys or gift your own child!" —Katie Raher, PhD, PPS, school psychologist and founder of Constant Love and Learning

"Bite-sized bits of practical wisdom paired with tiny action items, this is the first journal for young boys that I can actually imagine them completing. A perfect step to help our boys get unstuck and become their best selves!" —Tosha Schore, founder of Parenting Boys Peacefully and co-author of Listen: Five Simple Tools to Meet Your Everyday Parenting Challenges

"Growth Mindset Journal for Boys provides a canvas for boys to enrich their sense of self. This is something that has long been needed to support boys in getting in touch with their emotions and how to express them. It gives boys the message that not only is there an expectation to express and process their emotions, but there's a vehicle in which they can do so in a supportive way. I highly recommend this journal for 8-12 year old boys and even believe it should be part of school curriculum." —Lauren Foster, MS, CCC/SLP, CNHP, skills development director at Perspectives Center for Holistic Therapy and founder of The Powerful Project