Break Through the Breakup: A Modern Woman's Guide to Mending A Broken Heart and Bouncing Back Stronger (Paperback)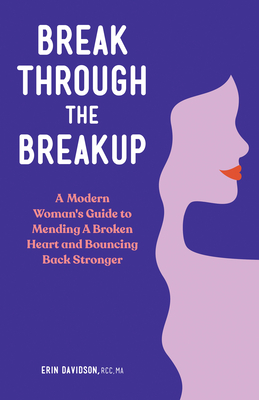 $14.99
Title is Backordered
Description
---
Find the strength to move through heartbreak
No matter how a relationship ends, recovering from a breakup can feel impossible, but
Break Through the Breakup
can help. It's a modern guide to breakups for women who need a little support finding their power, bouncing back, and moving on after heartache.
Like a trusted friend, this book helps any woman process all the confusing emotions that come with a breakup. Take the journey through grief and acceptance so you can start fresh. The bite-size advice and therapeutic exercises make it easier to understand why relationships end and find ways to feel more confident and get back out there.
Grounded in real life—See the healing strategies from this book in practice through stories from all kinds of women who found themselves again after breakups.
A helping hand—Find comforting psychological explanations for what makes breakups so hard and why moving forward is so important.
A new perspective—Learn how to see breakups as a path to deeper self-love and more fulfilling relationships in the future.
Emerge from heartache and begin the next chapter with the ultimate in breakup books for women.
About the Author
---
ERIN DAVIDSON, MA, RCC, is a writer and registered clinical counselor specializing in sex therapy and relationship counseling. She works with clients of all genders, sexual orientations, and relationship dynamics to bring more compassion and joy to their relationships. Connect with her on Instagram @erin.e.davidson and her website ErinEDavidson.com.
Praise For…
---
"A balm for anyone wading through the painful muck of this universal human experience. Erin skillfully leads readers through a road map of anecdotes and antidotes, spanning topics from grief to growth. A must-read!" —Erica Van Driel, M.Ed., registered clinical counsellor

"This is the book I wish I had while healing from my last breakup! Erin brings her gentle and lighthearted voice to a painful topic for many of us, and it feels as if you have your own personal therapist as you go through all the stages of breakup grief. The exercises, little notes at the end of each chapter, and stories truly make this the perfect breakup companion." —Diana Sadat, founder and clinical director of Allura Sex Therapy Centre

"Wow! I could have used this book during my toxic breakups in my twenties. It is easy to read and relatable. Erin offers practical tips to break habits that make moving on so much harder for many of us. I'll be recommending this book to my clients and friends." —Elle Stanger, certified sex educator and Strange Bedfellows podcast host

"Ending a relationship is a highly personal journey, and you're right to be choosy about your guide. With her relatable stories, practical suggestions, and refreshing and compassionate voice, sex and relationship therapist Erin Davidson proves herself an essential traveling companion. In your time of turmoil, Break Through the Breakup is for you." —Blair McLean, registered clinical counsellor and author of Up Up in a Way