The First-Time Grandmother's Journal: Inspiring Prompts to Celebrate Your Experience with a New Grandchild (Paperback)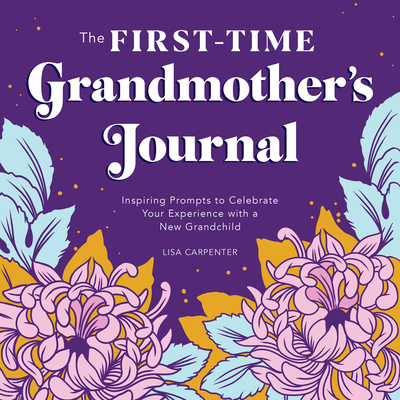 Description
---
Capture every magical moment in this beautiful journal for first-time grandmothers
There's nothing more exciting than becoming a grandparent!
The First-Time Grandmother's Journal
is a must-have for new grandmothers. You'll write about the hopes and dreams you have for your grandchild, record lessons you want to pass on to them, and reflect on what kind of grandmother you want to be using thought-provoking writing prompts and inspiring exercises.
This beautiful guided grandmother's journal will help you capture your thoughts, feelings, and memories as you embark on this thrilling, life-changing journey with:
Prompts to help you prepare—Reflect on how you can help your child as they become a parent, write your future grandchild a letter, and focus on being more mindful and present as you await the baby's arrival.
Prompts to help you celebrate and bond—Congrats, you're a new grandma! Record every detail and strengthen your bond with your grandchild once he or she arrives. From the first time you hold them, to their first smile, on through to their first birthday.
Pages for your keepsakes—Capture the Details pages are the perfect place to tape in a sonogram photo, record the must-remember moments on the day your grandchild is born, and more.
The First-Time Grandmother's Journal
is the perfect grandma book for yourself or the new grandmother in your life. Order now to record your unique path to grandmotherhood while creating a treasured keepsake you can one day share with your beloved grandchild.
About the Author
---
LISA CARPENTER is a freelance writer and proud grandmother who blogs about her experiences on Grandma's Briefs. She's also written for outlets like The Huffington Post, Woman's World, and Next Avenue. Lisa's first book, The First-Time Grandmother's Journal, was published in 2021.
Praise For…
---
"If you're a first-time grandmother, you need this beautifully illustrated journal to capture the first year of the journey. Lisa provides pages of thought-provoking prompts and inspiring quotes to encourage you in your adventure as a grandmother. Get creative or simply write down the facts as you see them. The important thing to do is to write it all down!" —Emily Morgan, Host of The Grand Life podcast

"As you take residency on cloud 9, you may think you'll always remember your thoughts and feelings, but you won't unless you record them. With insightful prompts, Lisa provides you inspiration and a place to chronicle every aspect of your new-grandmother journey in this treasure of a keepsake." —Donne Davis, Founder of the GaGa Sisterhood

"What a wonderful and inspirational keepsake! Lisa's wisdom, insight, and presence make this journal a must-buy for every first-time grandma…The layout is perfection." —Pam Siegel and Leslie Zinberg, Authors of Grandparenting: Renew, Relive, Rejoice

"How I wish this book had been around when I became a grandmother! I had thought of grandparenthood as a perk, a frill on a quite satisfactory life. Instead, it was intense and life-changing. One part memory-maker, one part book of wisdom, The First-Time Grandmother's Journal will prove invaluable to those embarking on this most thrilling adventure. Using Lisa's prompts, you will not only create a treasure for the future but also become a more mindful grandparent. You'll be prepared to meet all the challenges as well as savor the delights of this important role." —Susan Adcox, Former Guide to Grandparents for About.com and Author of Stories From My Grandparent

"I wish I'd had The First-Time Grandmother's Journal when I first became a grandmom! This journal is exquisite in so many ways, not the least of which is that it provides first-time grands with exactly what they need to guide, inspire, and capture their unique journey as a grandparent." —Christine Crosby, Editorial Director, GRAND Magazine