Engineering for Teens: A Beginner's Book for Aspiring Engineers (Paperback)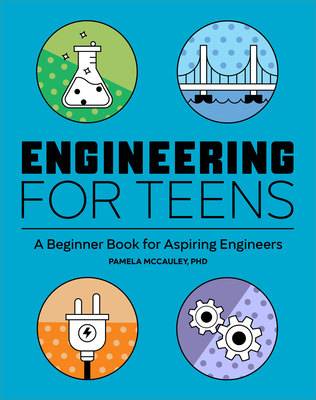 $15.99

Usually Ships in 1-5 Days
Description
---
Explore engineering as a career with this introduction for ages 12 to 16
The job of an engineer is to solve all sorts of complex challenges facing the world while improving our lives through creative, innovative ideas. This engineering book for teens gives you a look into what engineers do and how they drive society forward through math and science.
From designing tablets and smartphones to reimagining the way we collect and store renewable energy, this engineering book for teens introduces you to the major engineering disciplines and their distinct specialties, famous engineers throughout history, and more.
Engineering for Teens
offers:
Engineering fundamentals—Discover the four main branches of engineering and their different specialties.
Inspired inventions—Get examples of the incredible things that engineers have created, like fuel cells and medicines.
Inclusivity in engineering—Learn all about the diversity within the field of engineering.
Discover the wonders of engineering and prepare yourself for a life of scientific discovery with this engineering book for teens.
About the Author
---
Dr. Pamela McCauley is an internationally recognized industrial engineering researcher. She is an award-winning educator on a mission to empower others to succeed in STEM and is currently the associate dean for academic programs at the Wilson College of Textiles at North Carolina State University.
Praise For…
---
"There is a need for talented and innovative students in the profession of engineering as eloquently explained in Dr. Pamela McCauley's book. If you are a teen who likes to solve problems or add solutions to our world, this book is appropriate for you." —Ronald W. Holmes, Ph.D., President & Publisher, The Holmes Education Post

"This book is a comprehensive resource and handbook that elevates the understanding of engineering to go beyond math and science skills, focusing on imagination and creativity for innovative problem-solving! Dr. McCauley connects engineering to social consciousness and justice, inspiring teens to create a safer, healthier, and more equitable world." —Bonnie J. Walker, M.A., Director of Equity and Inclusion at Worcester Academy

"This book is fantastic! Dr. McCauley is passionate about inspiring the next generation of engineers and students in STEM. This book provides background on engineering, great role models, and examples to encourage students who desire to or are considering an engineering career. It also provides a helpful quiz to help students discover which discipline may be the best fit for them. I recommend this book for aspiring engineers and anyone who desires to better understand engineering and its positive impacts on our world!" —T. M. Alexander, Ph.D., Engineer