Marvel: The Tiny Book of Scarlet Witch and Vision: (Wanda Maximoff and Vision Comics, Geeky Novelty Gifts for Marvel Fans) (Hardcover)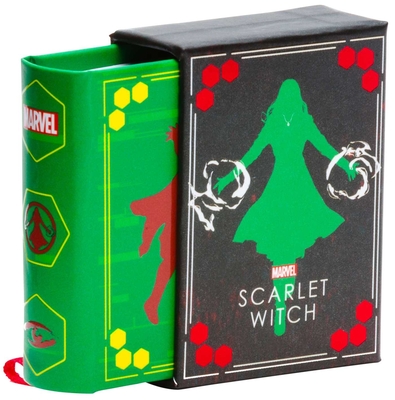 $11.99

Usually Ships in 1-5 Days
Description
---
Relive moments from the epic romance between Scarlet Witch and the Vision in this tiny book of quotes!

The journey of Scarlet Witch and the Vision is one of the most beloved stories in the Marvel Universe. Now, you can hold this incredible love story in the palm of your hand, with this tiny book that collects art and quotes from over four decades of Marvel comics. The perfect gift for any Marvel fan, this tiny book is a fun celebration of the most universe-shattering couple in the Marvel Universe!

• AN EPIC SAGA IN THE PALM OF YOUR HAND: Depicting the decades-spanning story of Wanda and Vision, this 1.34" x 1.73" book fits in the palm of your hand.

• MORE THAN 150 QUOTES: Filled with quotes and art from all of Scarlet Witch and Vision's most significant comics stories.

• DECOR AND DISPLAY: A ribbon bookmark doubles as a hanger to let you use this tiny book as an ornament or decoration. The beautiful and sturdy slipcase turns a delightful book into a treasured keepsake.

• COMPLETE YOUR MARVEL LIBRARY: A miniscule but mighty companion to your Marvel collection, this tiny book is an exciting entry in Insight Editions' line of tiny books featuring Spider-Man, Captain America, and more.
About the Author
---
Celebrated for its unwavering dedication to quality, Insight Editions is a publisher of innovative books, journals, and collectibles that push the boundaries of creativity, design, and production. Through its acclaimed film, television, and gaming program, Insight strives to produce unique books and products that provide new ways to engage with fan-favorite characters and stories. Under the program, Insight has published books covering the worlds of Star Wars, Game of Thrones, The Walking Dead, Destiny, Assassin's Creed, Halo, Diablo, World of Warcraft, and the Harry Potter films, among many others. Insight's award-winning art, photography, and sports titles celebrate the artistry and legacy of a wide range of subjects that include John Lennon, Kurt Cobain, Johnny Cash, and The Rolling Stones.

By combining rich subject matter, striking visuals, and exclusive content with imaginative design and production, Insight Editions strives to create unique keepsakes that celebrate the best in pop culture and make one-of-a-kind gifts for fans of all ages.