The Visual Sale: How to Use Video to Explode Sales, Drive Marketing, and Grow Your Business in a Virtual World (Paperback)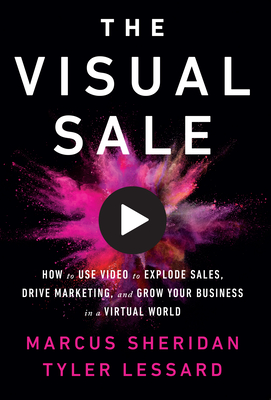 $22.95
Title is Backordered
Description
---
Video can help you close the deal in a virtual world and this book from award winning marketer and author Marcus Sheridan will show you how. With practical advice and step by step instructions, this is the ultimate guide to selling over video - no matter how much you hate watching yourself on the screen.
More than ever before, buyers and consumers are demanding for more video. Just "reading" about a product, service, or company will no longer do the trick. Today, they must "see" it. Notwithstanding this increased demand for video, most businesses and organizations have struggled to quickly adapt. In fact, many have no idea as to how or where to get started. For this purpose, The Visual Sale was written. Finally, businesses and organizations have a clear guide that will literally show them, in simple, clear, and actionable terms, exactly how they can build a culture of video and start "showing it" moving forward, ultimately leading to a dramatic improvement to their sales numbers, marketing strategy, and overall customer experience.
About the Author
---
Marcus Sheridan is an international keynote speaker listed by Forbes as 1 of 20 "Speakers You Don't Want to Miss." Mashable rated his book, They Ask, You Answer, the "#1 Marketing Book" to read in 2017. Forbes listed it as one of "11 Marketing Books Every CMO Should Read." Dubbed a "Web Marketing Guru" by the New York Times he inspires audiences from the stage and through his agency, IMPACT, in the areas of sales, marketing, leadership, and communication. The only thing Marcus loves as much as being on stage is being on a boat with his wife and four children. Tyler Lessard is a business leader with a passion for creative storytelling and exceptional customer experiences. Recognized by Demand Gen Report as the top Buyer-Focused B2B Marketer, and by Marketo as one of the top 50 Fearless Marketers, he's a frequent speaker and author on video marketing, content marketing, brand building, and demand generation. As VP Marketing at Vidyard, he's spent 6+ years helping businesses grow through the strategic use of video content. When he's not chasing higher engagement rates, he can be found chasing one of his four wonderful children.