One Sunday at a Time (Cycle A): Preparing Your Heart for Weekly Mass (Hardcover)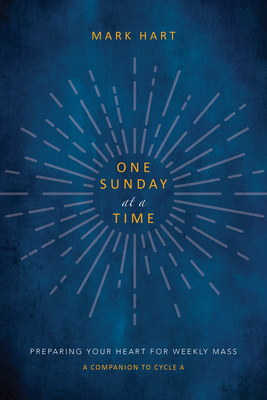 $24.95
Title is Backordered
Description
---
What if ten minutes a week could help you experience Sunday Mass more fully and deepen your love of the Word of God?
"Bible Geek" Mark Hart makes that possible with One Sunday at a Time, the essential companion to the Sunday readings and the ideal resource for busy Catholics who want to get more out of Mass.
After almost thirty years in ministry, Hart says he hears two questions most often: "How do I get more out of Mass?" and "Where do I start?"
His response? Begin with what you're already doing--going to Mass. You'll understand the Bible better, receive God's grace, and the liturgy will come to life for you in a whole new way.
The extra features of each Sunday are designed to help you initiate faith-based conversations with your family and friends, form the habit of scripture study, and carve out time for God every week. In this book you will find:
brief summaries of the Mass readings for Sundays, major feasts, and solemnities in liturgical year Cycle A;
engaging reflections that draw your attention to a primary theme and common threads among the readings each week;
explanation of key Greek and Hebrew words in the biblical text; and
fun facts and cultural context of the biblical world.
One Sunday at a Time also includes prayer and a weekly challenge to help put into practice the message of each week's readings in your daily life. Wide margins are ideal for notetaking.
This beautiful, full-color book is perfect for use by individuals, families, RCIA classes, and small groups.
About the Author
---
Mark Hart--also known as the "Bible Geek"--is the chief innovation officer at Life Teen International. He is an award-winning producer of Bible study DVDs and the author of more than twenty books, including the bestselling and award-winning Blessed are the Bored in Spirit. He is the coauthor--with his wife, Melanie--of Our Not-Quite-Holy Family, Embracing God's Plan for Marriage, and Getting More Out of Marriage. A graduate of the University of Notre Dame, Hart is a blogger, podcaster, and international speaker. He is a research fellow at the St. Paul Center for Biblical Theology. He lives in the Phoenix, Arizona, area with his family.