The Great End Time Debate: Issues, Options, and Amillennial Answers (Paperback)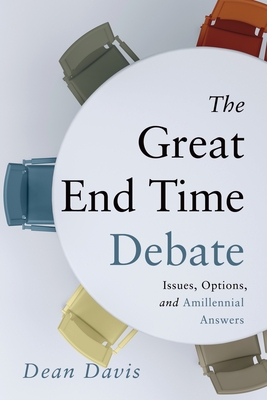 $25.99

Usually Ships in 1-5 Days
Description
---
"When we receive the key to biblical eschatology, a whole new world opens up to us. The scales fall from our eyes and we see Christ, His covenant, His kingdom, and His people in all Scripture. In
The Great End Time Debate,
Dean Davis offers us the key." -- Simon Wartanian
For the last 150 years the evangelical church has been embroiled in a great debate about eschatology: about the true shape of Salvation History, and about God's plan for the Consummation of all things at the return of Christ. In this book, retired pastor and author Dean Davis seeks to resolve that debate once and for all.
He begins at the beginning, asking how it got started and what keeps it going. He answers by suggesting that we have failed to listen to God's Son, who alone can guide us into all truth, including eschatological truth.
Making that commitment afresh, and therefore anchoring to the New Testament, Davis invites us on a rich theological journey with Christ in which we listen to the Lord on the four underlying issues of the Great End Time Debate: the Kingdom of God, the interpretation of Old Testament Kingdom prophecy, the meaning of the Millennium, and the Consummation of all things.
The journey is no cakewalk, for along the way we must earnestly wrestle with complex issues and honestly consider competing options. But the prize ever beckons: a final ascent to the highest peak of all, the peak where the High King of Heaven grants his beloved Bride a fresh vision of her Blessed Hope, and the winner of the Great End Time Debate.