Drink Like a Local New York: A Field Guide to New York's Best Bars (Paperback)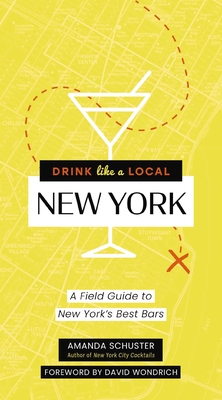 $16.95

Usually Ships in 1-5 Days
Description
---
Drink Like a Local: New York is a love letter to drinking in Gotham.

Whether you live in New York or are visiting, drinks expert Amanda Schuster's ode to the bars that mean the most to her is sure to delight. Uncorking history, personalities, interior design quirks, and signature cocktails, Drink Like a Local: New York features 75 bars that help pump the heartbeat of the city.

In this recipe book and guidebook, you will find:

- A map with the different boroughs of the city outlined with specific bars
- Detailed bartending tips and techniques
- Vibrant and evocative photographs of these drinks and revered bartenders
- Classic and modern drinks to look for at each bar

From the infamous to the unknown, Schuster's tour through the five boroughs captures the details and qualities that keep locals returning to these establishments, and makes the case for why you should become a local too.
About the Author
---
Amanda Schuster is a drinks writer based in Brooklyn, New York, and is the author of New York Cocktails. She thinks the worst thing to happen to whiskey is the Pickle Back.

David Wondrich is a James Beard Award winning author, cocktail historian, mixologist, and educator, and one of the pioneers of the current renaissance in the art of mixing drinks. His long-time interest in the arcana surrounding spirits and cocktails led him to become Esquire Magazine's drinks correspondent, and later senior drinks columnist at the Daily Beast. Wondrich is the author of Esquire Drinks, Killer Cocktails, Imbibe!, and Punch, and he is the editor of The Oxford Companion to Spirits and Cocktails.