Free Yourself from OCD: CBT-Based Strategies to Manage Intrusive Thoughts and Compulsive Behaviors (Paperback)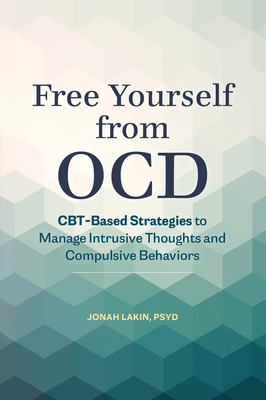 Description
---
Practical, proven strategies to break free from the symptoms of OCD
People with obsessive-compulsive disorder (OCD) often experience an overwhelming cycle of intrusive thoughts and compulsive behaviors.
Free Yourself from OCD
is your guide to simple, effective, therapy-based techniques that help you find relief and take back your life.
Explore user-friendly strategies that have been clinically proven to help people dealing with OCD. This book will teach you how to better understand and manage your OCD through exercises like identifying problematic thoughts and behaviors, overcoming intrusive urges, and staying focused and resilient.
Free Yourself from OCD
features:
Evidence-based exercises—Learn specific coping techniques that use exposure and response prevention therapy and mindfulness-based cognitive behavioral therapy.
Real examples—Read anecdotes and case studies based on real people with OCD, so you can see for yourself how the exercises work.
For everyone—These practical, evidence-based strategies and techniques range the entire spectrum of OCD, so you can find expert advice for the symptoms that affect you most.
Help end the cycle of OCD with advice and exercises for living more peacefully.
About the Author
---
Jonah Lakin, PsyD, is a licensed clinical psychologist specializing in the treatment of OCD and anxiety disorders. He founded the OCD & Anxiety Center of Cleveland and educates the public about OCD via his blog and public lectures. He also provides training and consultation to other mental health providers.
Praise For…
---
"OCD is all about doubt, and it can keep you stuck for decades if you let it. However, if one gains momentum, one can move past the distress, discomfort, and doubt. Through definition, case example, and a remarkable ease to read, Free Yourself from OCD will teach you, guide you, and bring you to a place where you are ready to take those first necessary steps to challenge your OCD." —Patrick B. McGrath, PhD and Head of Clinical Services, NOCD

"I wholeheartedly recommend Free Yourself from OCD to anyone struggling with OCD. This book covers a wide range of OCD fears, including fear of having chosen the wrong mate, the possibility of having a different sexual orientation, contamination, disease, being immoral and so on. Free Yourself from OCD provides very clear, step by step descriptions of tools to approach these fears. The interventions are all research-based, well-presented, and explained in a manner that makes this manual an excellent guide to return to repeatedly to clear up any misconceptions. Family members of people with OCD would gain a great deal from studying this manual as well. Please read this book from cover to cover!" —Theodore Gradman, PhD, Licensed Clinical Psychologist

"This book offers a refreshing, practical, and hands-on guide to understanding obsessive-compulsive disorder (OCD) and how to break free from its grip. As knowledge in our field expands to help OCD sufferers, it often leads to confusion for those seeking help. Dr. Lakin clarifies how exposure and response prevention (ERP), the gold standard of treatment for OCD, works and how it is enhanced by mindfulness-based cognitive therapy (MBCT) and acceptance and commitment therapy (ACT). His clinical experience shines as he guides readers through the process of actively seeking out obsessions with openness and curiosity rather than engaging in resistance and avoidance. He asks thoughtful and motivating questions while providing concrete behavioral strategies to break free from vicious OCD cycles. This book has a lot to offer! It is concise, informative, and a fabulous introduction to understanding OCD and engaging in the treatment journey." —Joan Davidson, Ph.D., Co-Director and Founding Partner of San Francisco Bay Area Center for Cognitive Therapy

"The fundamental processes of overcoming OCD are consistent and well-established: you face your obsessions and resist engaging in compulsions; however, this process is not as simple as it sounds. Dr. Lakin's book does a solid job acknowledging the challenges that come in the process of managing OCD, the necessary skills to make a turn, the importance of returning to one's values, and most importantly, how to move forward as life unfolds. This book will certainly help a reader to take actionable steps, build momentum, and get unstuck from OCD!" —Patricia E. Zurita Ona, Psy.D., Author, and Founder of ACT beyond OCD online classes