Share Your Love (Hardcover)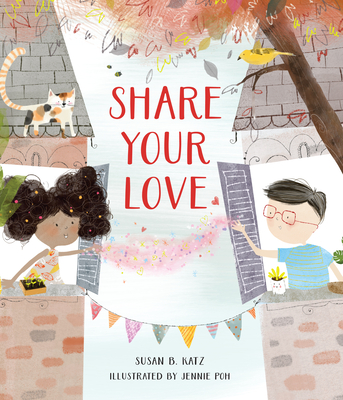 Description
---
A playful, rhyming book for kids ages 3-7 on how to send loving, kind thoughts to yourself and others to make the world a better place.

​ Keep sharing your love
from morning till night.
See the change you can make
with a love that shines bright.

Worried or sad, grateful or mad, you can send good wishes to yourself, others, and the whole world with your thoughts! Just repeat these simple phrases: "May you be protected and safe. May you feel happy and pleased. May your body be healthy, and may you live with ease."

This book teaches young readers that even from far away, you can wish others happiness, good health, peace, and safety. Starting with the individual child and extending outward to the whole universe, the rhyming couplets and beautiful art carry the reader through the thoughtful process of extending love and kindness to yourself and all those around you. The book makes a great daily ritual to increase lovingkindness, and if a child is having a rough time or witnessing outside struggles, they can use the repeated phrases in the book to find peace and calm.
About the Author
---
SUSAN B. KATZ is an award-winning bilingual author, National Board Certified Teacher, educational consultant, and long-time meditation practitioner. Susan is also the founder and executive director of Connecting Authors, a national nonprofit bringing children's book authors and illustrators into schools and libraries as role models of literacy and the arts. Katz served as the Strategic Partner Manager for Authors at Facebook and delivers keynotes at conferences nationally and internationally. You can read more about her books and school visits at www.susankatzbooks.com.

JENNIE POH was born in London and spent her formative years in Malaysia, returning to the UK at the age of nine. She studied fine art at The Surrey Institute of Art & Design, alongside illustration courses at Central St. Martins. She mainly works digitally but enjoys making her own paintbrushes and textures, using natural materials such as leaves, bark, flowers, and anything else she may find while out walking. Jennie's clients include Bloomsbury, Little Tiger Press, Harrods, Magination Press, Baker Publishing, Capstone Publishing, Sleeping Bear Press, Lantana Press, and Eden Cooper.