Show Me History! Performers Boxed Set (Hardcover)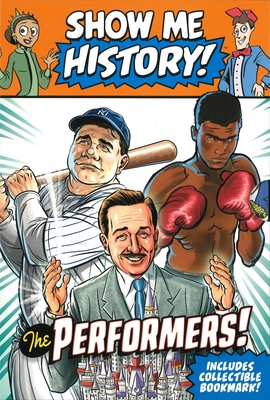 Description
---
Presented in graphic novel format, the stories of these three famous performers—Babe Ruth, Muhammad Ali, and Walt Disney—are entertaining as well as educational.

These famous performers have wowed generations of fans with their accomplishments, and their legacies continue to inspire us today. Each of the three graphic biographies in this collection includes a historically accurate narrative about the subject's life, with full-color art presented in a comic book format. Entertaining and educational, each volume will keep readers engaged as they learn the "story" in "history." Included in this boxed set are three hardcover volumes: Babe Ruth: Baseball's All-Time Best!, Muhammad Ali: The Greatest of All Time!, and Walt Disney: The Magical Innovator!, along with an illustrated bookmark featuring all three historical figures.
About the Author
---
Portable Press is a tight-knit group of writers, researchers, and editors who are responsible for some of the publishing industry's most popular non-fiction trivia and facts books. Aside from creating the fan-favorite Uncle John's Bathroom Reader series (more than 16 million books in print since 1988), the Portable Press team also specializes in regional and kids' titles, plus gift books, activity books, and whatever else strikes their fancy.