The Jodorowsky Library: Book Two: Son of the Gun • Pietrolino (Hardcover)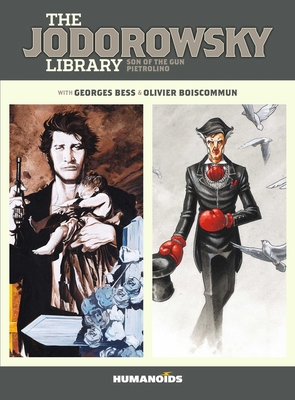 $39.99
Title is Backordered
Other Books in Series
This is book number 2 in the The Jodorowsky Library series.
Description
---
The Jodorowsky Library: a collection of deluxe matching volumes showcasing the iconic works of the legendary Alejandro Jodorowsky.

Included in this volume are the modern-day spiritual western SON OF THE GUN (illustrated by Georges Bess) and the heartwrenching tale of a mime in Nazi-occupied France, PIETROLINO (illustrated by Olivier Boiscommun).
About the Author
---
Born February 7th, 1929, in Tocopilla, Chile, of a Jewish Ukrainian immigrant family. Jodorowsky was multi-talented from an early age, becoming skilled in puppetry and mime, in addition to writing, by his late teens. He traveled with a pantomime troupe in the 1950s, and within a couple years had made his way to Paris where he collaborated with the world-renowned mime Marcel Marceau. In the 1960s, Jodorowsky ventured further into the world of theater, creating in Mexico, the Panic Movement. This innovative artistic movement allowed him to creatively participate in over a 100 theater productions. The 1970s saw him transition into the world of film where he quickly put a defining stamp on all his cinematic works. He directed several cult films, namely the infamous "El Topo," a Midnight movie favorite. Shortly thereafter, Jodorowsky became attached to direct the adaptation of the famous Frank Herbert sci-fi epic novel "Dune." At the preparation stage of the film, he brilliantly assembled a team of extremely diverse and gifted artists such as HR Giger, Chris Foss, Dan O'Bannon, and Moebius, all of who would later be hired as concept artists on Ridley Scott's "Alien." The development of "Dune" came to a halt due to financial problems, but Jodorowsky, having been exposed to such immense visual talent, propelled himself into writing graphic novels, pairing up with the artist Moebius. This collaboration resulted in what many consider to be one of the most creative European sci-fi graphic novel series of all time, "The Incal," which went on to sell millions of copies worldwide. Since penning "The Incal," Jodorowsky continued writing top selling comic books with a wide variety of Europe's most talented artists, such as "The White Lama" (with Bess), "The Metabarons" (with Gimenez), "The Technopriests" (with Janjetov), and most recently "Bouncer" (with Boucq). Along with nurturing his many other talents, Jodorowsky remains a unique storyteller whose published contributions have secured his status as one of the world's most prolific graphic novel writers.

Georges Bess is a French artist, best known for his collaboration with Alexandro Jodorowsky. He moved to Sweden in the early 1970s and it is there that he did his first artistic jobs under his own name or under the pseudonyms Tideli and Nisseman. He cooperated with the Swedish "Mad" magazine, and from 1977 to 1987, drew stories with "The Phantom." In the early 1980s, Bess accidentally traveled to Tibet and became very impressed with the country. It was shortly thereafter that he met and began collaborating with Jodorowsky, in what would become a long and successful collaborative partnership.

Born in 1971, Olivier Boiscommun studied Graphic Arts in Paris. Initially a fashion designer, he switched to studying Fine Arts in Angoulême in 1993. He created a story for the Enfants du Nil anthology in 1994, followed by a small black and white album at Le Cycliste. He worked on the animated film Bamboo Bears before joining Delcourt publishers, where he began the Troll series with Joann Sfar and Jean-David Morvan. In 2001, he produced Anges with writer Dieter, as well as creating The Book of Jack and The Book of Sam with writer Denis-Pierre Filippi.