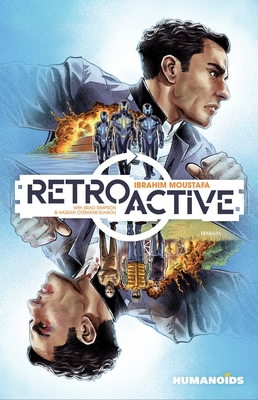 $19.99

Usually Ships in 1-5 Days
Description
---
An agent working for the U.S. Bureau of Temporal Affairs sets out to discover the source of several anomalies in the timeline—only to become imprisoned in an inescapable time loop.

Temporal agent Tarik Abdelnasser is trapped in a time loop, living and dying over and over again.

The discovery of time travel is unknown to the general public, but a new Cold War rages between global intelligence agencies as they attempt to alter historical events in favor of their respective futures. When new intel points the U.S. Bureau of Temporal Affairs (BTA) toward a hostile anomaly in the past, veteran field agent Tarik Abdelnasser and his new partner, Lucia Olmos, are dispatched to investigate. They discover a radical adversary wielding a new technology that could unravel everything the BTA fights to maintain.

As Tarik gets closer to the truth, he finds himself trapped in a time loop where an imminent terrorist attack, and his own death, trigger the day to restart. He must keep his sanity intact and find a way to prevent the attack, escape the loop, and return to his own timeline to thwart the destruction of the BTA and everyone inside of it.
About the Author
---
Ibrahim Moustafa is an illustrator and comic book writer/artist from Portland, Oregon. Best known for his Eisner-nominated comics Jaeger and High Crimes as well as his work on titles such as James Bond and DC's Mother Panic, he has been published by DC Entertainment, Marvel Comics, Image Comics, Dynamite Entertainment, Dark Horse Comics, BOOM! Studios, Valiant Entertainment, and IDW Publishing. He is the author of Humanoids' critically-acclaimed Count.


Praise For…
---
"A rock-solid time-travel thriller with impeccable action sequences and real human emotions."
— —Steve Lieber (Whiteout, Superman's Pal Jimmy Olsen)

"RetroActive is a mile a minute thrill ride by a cartoonist at the top of their game. Clear, concise and action-packed storytelling make this a great read with some serious depth. Ibrahim keeps the reader guessing up until the very end. I couldn't put it down."
— —Michael Walsh (The Silver Coin, Comeback)

"Tackling the morality and responsibility involved with time-traveling, RetroActive is a fast-paced time travel story that will have you guessing at every time jump. I devoured this story in one sitting. Ibrahim Moustafa and the team have craft ed a suspenseful story with gorgeous artwork that you won't be able to put down."
— —Stephanie Phillips (Harley Quinn, The Butcher of Paris)

"Breathlessly cinematic. Forget three-dimensional: this is a four-dimensional sci-fi spy epic the likes of which we haven't seen in decades—if ever."
— —Phil Nobile, Jr. (Editor-in-Chief, Fangoria)

"Tightly wound MI6-style espionage with mind-bendingly dangerous time travel. Auteur Ibrahim Moustafa is quickly carving out his own comics niche with one slick, sci-fi action gem aft er another. RetroActive is a rush. I wish I could travel back in time and experience it fresh all over again."
— —Tony Fleecs (Stray Dogs, Time Shopper)

"You'll never be happier to be in the hands of such a mad scientist."

— —Phil Hester