The Book of Sleep: 75 Strategies to Relieve Insomnia (Paperback)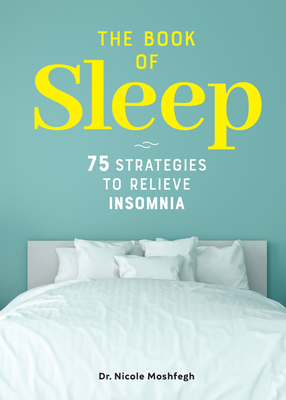 $15.99

Usually Ships in 1-5 Days
Description
---
Fall asleep, stay asleep, wake up rested—proven strategies for beating insomnia.
Make your bed and
actually
sleep in it.
The Book of Sleep
provides dozens of quick, easy, and evidence-based strategies that are more effective and sustainable than sleep medication for people who suffer from insomnia.
Based in CBT-I (cognitive behavioral therapy for insomnia), the techniques in this book were developed by a clinical psychologist who specializes in insomnia treatment. Find the relief you need and wake up feeling truly restored. A good night's sleep isn't just a dream anymore.
The Book of Sleep
includes:
Stand-alone strategies—Each helpful strategy is complete by itself so you can pick this book up anywhere and find help.
What's your sleep pattern?—Keep a daily log of the quantity and quality of your sleep so you can remember details that are helpful in addressing your insomnia.
Sleep tight—From kicking caffeine to keeping cool, get pointers on how to properly set the stage for restful sleep.
Rise and truly shine. Follow the 75 effective sleep methods in this book and get out of bed feeling your best.
About the Author
---
NICOLE MOSHFEGH, PSY.D is a clinical and health service psychologist. She provides cognitive-behavioral and mindfulness-based interventions for the treatment of insomnia, anxiety, and mood disorders at her private practice in Los Angeles, California.
Praise For…
---
"Dr. Moshfegh's clear and concise writing, outlining easy-to-digest and implement strategies, is a lifesaver when combating sleepless nights. I recommend this book to use either as a stand-alone self-help guide or in combination with treatment by a mental health professional."—Meredith Hannan, MD, PhD, child, adolescent, and adult psychiatrist

"Dr. Moshfegh's book provides many practical tips backed by years of research and her own extensive clinical experience. They are presented in a supportive voice that instills hope in the reader and guides them to develop a solid plan to improve their sleep based on the tools discussed. I would highly recommend this book to individuals who suffer from insomnia, as well as clinicians that work with clients struggling with this issue!"—Dr. Roxy Zarrabi, PsyD, Clinical Psychologist

"Dr. Nicole Moshfegh's Book of Sleep is evidence based, easy to read, and full of practical steps for relieving insomnia. As a licensed psychologist, this resource is one I will recommend to my clients who are struggling in this area."—Dr. Thema Bryant-Davis, author of Thriving in the Wake of Trauma: A Multicultural Guide