Each Day a Gift: A Gratitude Devotional for Women: 90 Devotions to Make a Habit of Praise and Thanks (Paperback)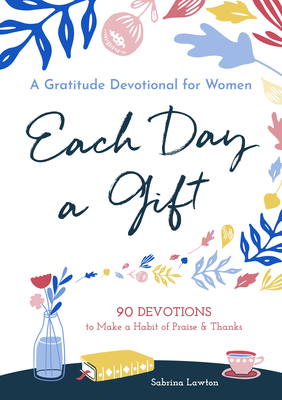 $14.99

Usually Ships in 1-5 Days
Description
---
Cultivate gratitude and deepen your faith with 90 daily devotionals for women
When life moves fast, it's easy to stop seeing the gifts each day brings. From family and friends to dreams and aspirations, this gratitude devotional for women will open your eyes to the blessings before you and unlock the grateful heart within.
Each Day a Gift
offers guidance to deepen your faith and cultivate a life filled with gratitude in just 90 days. Connecting the Scripture to everyday events, each daily devotional for women helps you realize all you have and all you stand to gain in God's grace.
A standout among Christian books for women,
Each Day a Gift
includes:
90 Devotionals for women―Practice gratitude each and every day with brief devotionals to help guide you.
Scripture for real life―See how the Bible sheds light on your home, work, and social life with passages that speak to modern life.
Room to reflect and pray―Write down your thoughts with dedicated space at the end of each devotional.
Celebrate each moment and milestone of your life when you practice gratitude through God's guiding words. These devotionals for women show you how.
About the Author
---
SABRINA LAWTON is the founder of Evolve to Love, a spiritual advising organization. Sabrina is dedicated to helping believers from all over the world evolve in their personal relationships with God by sharing the power of love through the teachings of Jesus Christ. Above all things, Sabrina is most grateful to enjoy the fruit of God's promises in her life including her loving husband, Eric, and two beautiful children, Martin and Savannah. Learn more at www.evolvetolove.com.
Praise For…
---
"A lovely and uplifting journal to encourage spiritual reflection. Author Sabrina U. Lawton has written an insightful and inspiring essay for each of the 90 days, and each day includes a space to record your own thoughts."—Virginia C.

"This book is a blessing. It was a pleasure to be introduced to verses from both the Old Testament and the New Testament—a mini Bible study of the best gratitude sayings with references to every quote in the back of the book."—Kathleen W.

"This book is a great way for us to remind ourselves of what we have to be thankful for and why…We often find ourselves fairly busy in this fast-paced world and this is an easy way…to remind myself of why I give praise and thanks."—D. Stevens