Rapture! Victorious! Glorious! Church! (Paperback)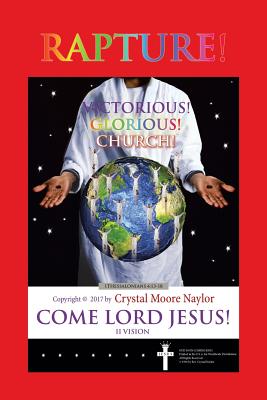 $26.95

Usually Ships in 1-5 Days
Description
---
The Greatest Of All Is LOVE
RAPTURE VICTORIOUS GLORIOUS CHURCH is a book that was inspired by the Lord Jesus Christ. It teaches many truths from the throne of heaven including the truth that Jesus Christ shed His holy blood to provide Total Salvation for mankind and how to live a VICTORIOUS life in Jesus Christ.
This book will teach you many keys from heaven that Almighty God gave to Crystal to share in this book concerning, Salvation, Healings, Miracles, Deliverances, and more. It also teaches how to receive your victory in your area of need, as well as how to minister to the needs of others with the power of the Lord.
As you read this book, you will be truly blessed, edified, encouraged, and transformed by the power of the Lord. In this book Crystal also shares her drawing of her second vision from the Lord of the RAPTURE, the coming of the Lord Jesus Christ in the air to take His body of believers Home to HEAVEN. ARE YOU READY?
Commendation
My wife, Apostle Crystal Moore Naylor, is truly a gift to the body of Christ. She is a dedicated wife, mother, and tremendous blessing to many.
Apostle not only ministers locally, but has ministered internationally in Nigeria, several times. She has also ministered in China, London, England, and in Egypt, where many souls were saved, healed, delivered, and received miracles, and were encouraged as they received various parts of Almighty God's Total Salvation Package.
Apostle Crystal is truly a bright light to those she comes in contact with and gives all the glory to Almighty God. As you read this book, you will be truly blessed and understand the importance of receiving Total Salvation into your life
Love Always,
Pastor Louis Naylor Sr.
www.totalsalvationchurch.org
www.osck.org