Saints: A Family Story (Hardcover)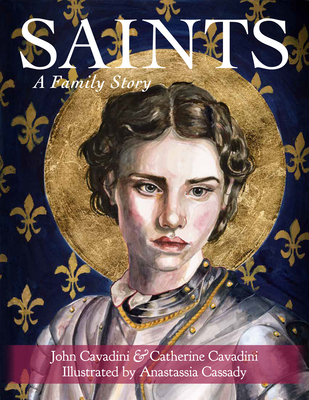 $25.99

Coming Soon - Available for Pre-Order Now
Description
---
A beautifully illustrated collection of the stories of the Saints the whole family will love — by father and daughter writing team, John and Catherine Cavadini, with stunning portraits by Anastassia Cassady.

This collection, Saints: A Family Story, is composed of stories the authors have written for their own children and grandchildren and friends. They are adapted from Scripture, from original sources within the Tradition, and from the writings of the saints themselves or their family and friends. The saints are presented as a "Family," living in many different times and places. Just think: many of these saints learned to love and to live the faith through the witness of their parents and grandparents or their brothers and sisters. Other saints form spiritual families, with connections between them found across the centuries.
 
The stories begin with Pope St. John Paul II because he called the Church today to sanctity by giving us the gift of more and more saints. The stories then move chronologically, from stories of saints in the Gospels, to martyrs, confessors and ascetics of the early Church, to saints of the medieval period, and to more modern saints, like Ven. Augustus Tolton, Bl. Pier Giorgio Frassati and St. Teresa of Calcutta.
 
Through the stories of these saints, we receive new brothers and sisters, mothers and fathers, grandmothers and grandfathers in the faith. Each person's life tells the "story" of God's love in a unique and unrepeatable way. The illustrations bring shape and color to these stories, capturing the true diversity among the magnificent and beautiful "family of saints."
About the Author
---
John C. Cavadini is a Professor of Theology at the University of Notre Dame. Since 2000 he has served as the Director of the McGrath Institute for Church Life at Notre Dame. A member of the Notre Dame faculty since 1990, Cavadini teaches, studies and publishes in patristic and early medieval theology, the theology of Augustine, and the history of biblical and patristic exegesis. He has served a five-year term on the International Theological Commission (appointed by Pope Benedict XVI) and in 2018 received the Monika K. Hellwig Award from the Association of Catholic Colleges and Universities for Outstanding Contributions to Catholic Intellectual Life. As Director of the McGrath Institute for Church Life, he inaugurated the Echo program in catechetical leadership, the Notre Dame Vision program for high school students and is responsible for the continued growth and outreach of the McGrath Institute, which partners with Catholic dioceses, parishes and schools to address pastoral challenges with theological depth and rigor.

Catherine Cavadini is Associate Teaching Professor at the University of Notre Dame, and teaches courses within the undergraduate and MA curriculum as well as directing the MA Program. Her speciality is in the history of biblical interpretation, especially medieval interpretation of the Song of Songs. Katie earned her Ph.D. in History of Christianity: Medieval, Patristic, and Liturgical Studies, from the University of Notre Dame.

Anastassia "Tess" Cassady studied Art and Art History at the University of Michigan (Go blue!) and Indiana University. She resides in South Bend with her husband, Bob, and three children: Genevieve, Ivanka, and Dmitri. She has spent the last ten years teaching high school advanced art and art history at Trinity School at Greenlawn. She is also a professional freelance artist and has taken on many commissions including church murals, altarpiece paintings, paschal candles, byzantine icons, gilding a baldacchino, book covers, and private oil paintings (her favorite!). Tess swam collegiately at the University of Michigan, while Katie Pagliarini swam at Notre Dame. Despite all of this, they still remain friends. In her free time, if not painting, you can usually find Tess cooking Ukrainian food, making pysanky (Ukrainian Easter eggs), playing ice hockey, or cuddling with her three massive Maine Coons. 
Praise For…
---
"This book is full of life. Christ promised to bring his disciples life in abundance and his saints are the shining testaments to the fulfillment of that promise. By word and image, this book reveres the beauty of Christ's life in his saints, teaching us, delighting us, and inspiring us in the way of sanctity. This book stands apart from others because of its spiritual warmth, theological sensitivity, and artistic beauty." –Leonard J. DeLorenzo, University of Notre Dame, Author of Our Faithful Departed: Where They Are and Why It Matters

"Literature on the saints, especially those written for children and families, tend to turn these holy men and women into cartoon characters from another era. Saint: A Family Story avoids this misstep, letting the saints become wonderfully beautiful and strange icons of holiness for our day. The lives of the saints are easy to read, but they never reduce the saints to models for living. You feel like you get to know these holy men and women, what they cared about, and why it matters to your life. The art throughout the volume captivates. The saints look like people, but the kind of people who have been forever transformed through an encounter with Christ. I feel, at last, there is a book on the saints that adults, adolescents, and young children alike can get excited about. Every family should own a copy of this book." —Timothy P. O'Malley, Director of Education, McGrath Institute for Church Life; Academic Director, Notre Dame Center for Liturgy