Five-Part Invention: A Novel (Hardcover)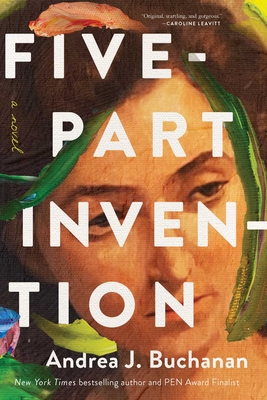 $25.95

Usually Ships in 1-5 Days
Description
---
The searing and haunting debut novel from PEN finalist and New York Times bestselling author Andrea J. Buchanan

Spanning five generations of women, Five-Part Invention wrestles with the question—if trauma echoes through generations, can love echo, too? Is the love we transmit enough to undo the trauma of the past that we unwittingly carry with us and often re-enact in the present?

When Lise, a pianist, suffers a nervous breakdown early in her marriage, her husband, in a warped act of protection and jealousy, has her piano taken away. With prose that is precise and emotionally affecting, Buchanan vividly renders how Lise's separation from her one source of expression and fulfilment cascades into her relationship with her daughter, leaving a legacy of trauma that echoes through the generations to come. Characters emerge broken and passionate, jagged, and yet hopeful and emotionally resonant, written in a way that only Buchanan, herself a conservatory-trained pianist, could achieve.

Five-Part Invention is by turns frightening and exquisitely observed, and establishes Buchanan as a literary force.
About the Author
---
Andrea J. Buchanan is a New York Times bestselling author whose latest book is the novel Five-Part Invention. Her memoir The Beginning of Everything was a finalist for the 2019 PEN/E.O. Wilson Award for Literary Science Writing. Her other work includes the internationally bestselling Daring Book for Girls and her essay collection on early motherhood, Mother Shock, along with eight other books. Before becoming a writer, Andi trained as a pianist, earning a bachelor of music degree in piano performance from the Boston Conservatory of Music and a master's in piano performance from the San Francisco Conservatory.
Praise For…
---
"Buchanan's novel investigates the sacrifices we make to create art--as well as to become ourselves. This is the story of the way mothers create a kind of music in their daughters, and build, through our love, an orchestra of souls. Generous, inspiring, and wise."
— Jennifer Finney Boylan, author of She's Not There

"Five-Part Invention, Andrea J. Buchanan's beautifully perceptive novel, begins with a reckoning. In ways subtle and profound, its wounding legacy has flowed through five generations of women, from Lise to Anna to Pauline to Hope to Zoe...Buchanan has endowed each one with a distinct personality and a life unique in its aspirations. Music provides some connective tissue across the generations, and descriptions of Lise at the piano or of the pieces played are laced with expressive details. Buchanan has employed an effective narrative style for this multigenerational story. The shifting lens offers highly illuminating, and often heartbreaking, views. These are ordinary, not extraordinary people, and the novel has deeper resonance because of this."
— Carol Iaciofano Aucoin, WBUR-FM (NPR)

"An immersive new novel...Buchanan gives each of her protagonists a complicated and compelling inner life, and places them within their own era with a deep sense of specificity. Each section feels like its own piece, as if we are reading four connected short stories and a novella encased in one novel. As each generation deals with the harm the previous survived, how healing exists on a continuum, as something to be re-learned and practiced."
— Broad Street Review

"Original, startling and gorgeous. Five generations of extraordinary women grapple with the mystery of inherited trauma in Andrea J. Buchanan's stunningly original new novel. As gorgeously written as a master's symphony, the story is also so immersive that I became fiercely invested in each indelible character's changing lives and their struggles with secrets, loves, losses, until love begins to trump calamity. This isn't just a novel you read: it's a miracle you live. I loved it."
— Caroline Leavitt, New York Times bestselling author of With or Without You

"Five-Part Invention is a sweeping yet intimate story that follows several generations of exceptional women coping with trauma and persevering despite the odds stacked against them. This debut novel by Andrea Buchanan is absolutely immersive, moving, and captivating from the first page to the last."
— Laura Sims, author of Looker

"As its title suggests, Five-Part Invention is both complex and inventive, a symphonic exploration of identity, family, secrets, and art, a novel that crescendos like the most soul-stirring music. A piano teacher tells one of the characters, 'You must have both intention and technique,' and Andrea J. Buchanan displays both in abundance here. This novel is an epic, ambitious composition, crafted with tremendous beauty and dexterity and heart. A masterpiece."
— Gayle Brandeis, author of Many Restless Concerns