Step-by-Step Drawing Book for Kids: 20 Fun, Introductory Drawing Lessons (Paperback)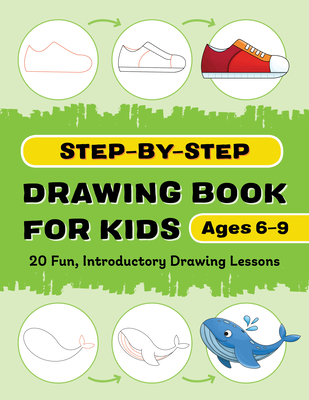 Description
---
Help kids ages 6 to 9 learn how to draw, one line at a time
Did you know that any kid can learn how to draw an adorable kitty cat or a fearsome dragon? This step-by-step drawing book makes it simple for aspiring artists with handy tips, beginner advice, and, of course, lots of things they can practice drawing one line at a time!
Go beyond other drawing books for kids with:
Beginner lessons—This book introduces concepts like shapes, lines, space, forms, balance, and more alongside beginner-friendly images.
20 adorable images—Kids will have the chance to draw all kinds of amazing things, from bumblebees and racehorses to sailboats and skyscrapers.
Three levels of difficulty—Pictures start out simple and get more complicated as they go, helping kids grow their skills and gain confidence.
Spark their creativity with this easy-to-follow guide to drawing for kids.
About the Author
---
ROCKRIDGE PRESS is a trusted voice in health and diet publishing a wide variety of lifestyle guides and cookbooks, including The New York Times best seller Paleo for Beginners, The Wicked Good Ketogenic Diet Cookbook, The Mediterranean Diet Plan and the Instant Pot Electric Pressure Cooker Cookbook. Our authors take pride in publishing thoughtful, well-researched books that help readers make positive lifestyle changes and build permanent healthy habits. Headquartered in Berkeley, California, Rockridge Press is situated in the heart of one of the healthiest regions in the world, the San Francisco Bay Area.