Unlocking the Teenage Brain: Helping Parents Understand and Support Their Teenager (Paperback)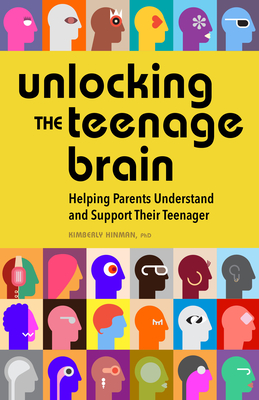 $11.99
Title is Backordered
Description
---
Understand the inner workings of your teen's changing brain
The teen years are a vital period of brain development, and understanding the origins and adaptive functions of your teen's behavior can help you support them as they grow. This parenting book digs deep into the shape-shifting adolescent brain, demystifying teens' behavioral and emotional development with the latest research in child development and neuroscience.
What sets this teenage brain book apart:
A holistic look at the teenage brain—Each chapter highlights a different area of the adolescent brain, the functions it controls, and its current level of development and how that impacts behavior.
Positive parenting strategies—Apply what you've learned to real-life situations with practical parenting pointers that help you navigate your teen's personality shifts, have important discussions, and connect with each other.
Relatable parenting stories—Read realistic anecdotes that provide context for the research while demonstrating successful communication between parents and teenagers.
Grow closer to your teen by better understanding how their brain works.
About the Author
---
KIMBERLY HINMAN, PhD, is a clinical psychologist practicing in Kansas City, MO, and New York, NY. In her private practice, she provides individual, couples, and family therapy. She also provides psychological and neurological assessment in a group neuropsychological and educational assessment practice. Learn more at DrKimberlyHinman.com.
Praise For…
---
"Parenting a teenager is a tall task, and this book demystifies so much about teenage behavior. Kim's expertise is clear, and her writing is engaging, as she brilliantly describes the teenage brain, teenage development, and related behaviors. This book should be required reading for parents!" —Rebecca Semel, PhD, licensed clinical psychologist

"Why does my teen act this way? Clarity at last! Dr. Hinman provides easy-to-understand descriptions of adolescent brain development, along with practical tips and strategies to deal with teenage challenges. LOVED the 'Key Take-Aways' and the valuable advice on coping with risky teenage behaviors. Well worth the read!" —Dawn G. Bloom, PhD, clinical psychologist, founder of Bloom Testing Associates

"Informative and useful resource for parents of teens, anyone who works with teens, or for teenagers themselves (just don't tell them to read it!). I appreciate the way Dr. Hinman has organized the book, making it approachable for people with varied understanding of teenage brain development. I am a clinical therapist and have provided it as a resource for parents and teens alike." —Brad Epsten, LSCSW, clinical therapist for teens and families