8-Week Couples Therapy Workbook: Essential Strategies to Connect, Improve Communication, and Strengthen Your Relationship (Paperback)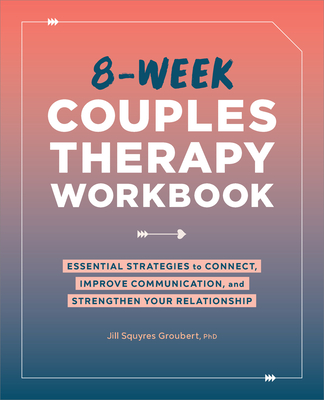 $16.99

Usually Ships in 1-5 Days
Description
---
Build a stronger relationship in just 8 weeks
All relationships face challenges sometimes. No matter how much you love each other or how long you've been together, learning how to work through conflict is an ongoing process. This workbook shows you how to do it more effectively and respectfully, so you can create a healthy foundation of communication and enjoy each other even more.
What sets this book apart from other couples therapy workbooks:
A guided format—Stay motivated with weekly advice and activities that are simple to do and easy to understand, on a manageable 8-week timeline.
A holistic approach—Focus on a different theme each week: communication, intimacy, conflict, money matters, social styles, relationship patterns, values, and love languages.
Proven strategies—Find tips and techniques written by an expert and rooted in real therapy treatments to repair and strengthen your relationship.
Pick up this couple's workbook today and create a better future together.
About the Author
---
JILL SQUYRES GROUBERT, PhD, is a nationally respected clinical psychologist, speaker, and writer with more than 35 years of experience. She runs a counseling and personal coaching practice in Arvada, Colorado. Find out more at DrJillPsychologist.com.
Praise For…
---
"Translating scientifically derived principles into effective and humane clinical interventions is no mean feat. Evidence-based applied psychology requires not only knowledge of the research but also creativity, humanity, and clinical experience to apply that knowledge to complex realities. From a solid cognitive behavior therapy foundation, Dr. Jill Squyres Groubert includes theory and research in communication-based and emotion-focused therapies to address a variety of conflicts that are common in committed relationships. This book will be an invaluable resource for both mental health professionals and graduate students—a must-read for the fields of clinical psychology, psychiatry, social work, and allied disciplines." —Gerald C. Davison, PhD, professor of psychology, University of Southern California

"With all the misinformation around us about relationships, guidance from professionals is critical. Dr. Groubert has written a highly practical book that can be used by couples who want to take the future of their relationship into their own hands. Therapists, especially, will appreciate the engaging, straightforward exercises that can be assigned as homework to help couples deepen their connection. This book is definitely a resource I will reach for regularly in my clinical work." —Poonam Sharma, PhD, psychologist and author of Strong Women, Strong Love: The Missing Manual for the Modern Marriage

"From the introduction on, Dr. Squyers connects to you with her understanding of the many facets of relationships. She brings a personal touch and positive approach to help couples look at how to increase their mutual understanding and relationship skills." —Jeff Zimmerman, PhD, ABPP, clinical psychologist and co-author of Loving Yourself More Than You Hate Each Other

"8-Week Couples Therapy Workbook offers couples a valuable resource for enriching their relationships. Dr. Groubert offers clear, practical strategies and exercises to help couples learn to communicate with compassion, resolve conflict effectively, and increase their emotional, physical, and spiritual connection. Highly recommended!" —Jill S. Zimmerman Rutledge, LCSW, psychotherapist, author of Dealing With The Stuff That Makes Life Tough: The Ten Things That Stress Girls Out and How To Cope With Them and Picture Perfect: What You Need To Feel Better About Your Body