Operation Gladio: The Unholy Alliance between the Vatican, the CIA, and the Mafia (Paperback)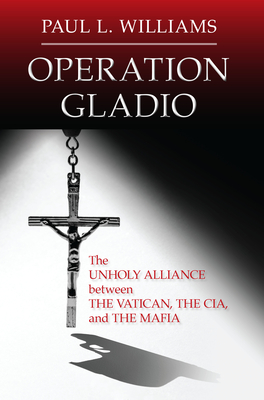 $18.00

Usually Ships in 1-5 Days
Description
---
This disturbing exposé describes a secret alliance forged at the close of World War II by the CIA, the Sicilian and US mafias, and the Vatican to thwart the possibility of a Communist invasion of Europe. Journalist Paul L. Williams presents evidence suggesting the existence of "stay-behind" units in many European countries consisting of five thousand to fifteen thousand military operatives. According to the author's research, the initial funding for these guerilla armies came from the sale of large stocks of SS morphine that had been smuggled out of Germany and Italy and of bogus British bank notes that had been produced in concentration camps by skilled counterfeiters. As the Cold War intensified, the units were used not only to ward off possible invaders, but also to thwart the rise of left-wing movements in South America and NATO-based countries by terror attacks.

Williams argues that Operation Gladio soon gave rise to the toppling of governments, wholesale genocide, the formation of death squads, financial scandals on a grand scale, the creation of the mujahideen, an international narcotics network, and, most recently, the ascendancy of Jorge Mario Bergoglio, a Jesuit cleric with strong ties to Operation Condor (an outgrowth of Gladio in Argentina) as Pope Francis I.

Sure to be controversial, Operation Gladio connects the dots in ways the mainstream media often overlooks.
About the Author
---
Paul L. Williams, PhD, is a journalist and the author of Crescent Moon Rising, The Day of Islam, Osama's Revenge, The Al Qaeda Connection, and The Vatican Exposed, among other books. The winner of three first-place Keystone Press Awards for journalism, he has written articles for major news outlets, including USA Today, the Wall Street Journal, and National Review. He has also served as a consultant for the FBI, editor and publisher of the Metro (Scranton, PA), and an adjunct professor of humanities at the University of Scranton.
Praise For…
---
"[Operation Gladio] is riveting, incredibly well researched, and horrifying in its implications; it should be mandatory study in universities and government."
 
—IQ al Rassooli, member of the Advisory Council for the Intelligence Summit and author of Lifting the Veil: The True Faces of Muhammad and Islam

"The people and their misdeeds exposed in Paul Williams's Operation Gladio will cause the reader to question what person of authority and leadership can be trusted, especially since these foul acts are not confined solely to the dusty pages of history."
 
—Sgt. Thomas Juby, retired Royal Canadian Mounted Police Forensic Crime Scene Investigator and member of the Advisory Council for the Intelligence Summit

"The Court of Public Opinion is finally in session. We, the Jury, will read aloud this critical verdict to the world: 'These Emperor Caesars definitely have no clothes!' Vicious felons have been hiding in plain sight. Williams's book is not just a book but a blatant indictment against these exposed, treacherous, and ruthless tyrants!"
 
—Brent M. P. Beleskey, producer for The Intelligence Summit: International Educational Forum, former consultant for the Ontario Gang Investigators Association, member of Drug Watch International, and investigative researcher for Paul Palango's Dispersing the Fog: Inside the Secret World of Ottawa and the RCMP

"For decades the CIA has been conducting covert wars without the knowledge or consent of the United States Congress or the American people. The CIA has funneled billions of dollars into dark operations, funding gun running, criminal figures, and attempted coup operations that resulted in the deaths of scores of people—all under the guise of 'national security.' Paul Williams exposes one such operation—Gladio—and courageously reveals the shadowy connections between US intelligence, the secret Vatican bank, and the global Mafia. Williams demonstrates a level of courage I have seen in few authors today."
 
—Kevin M. Shipp, former CIA operative and author of From the Company of Shadows