Boy with a Knife: A Story of Murder, Remorse, and a Prisoner's Fight for Justice (Paperback)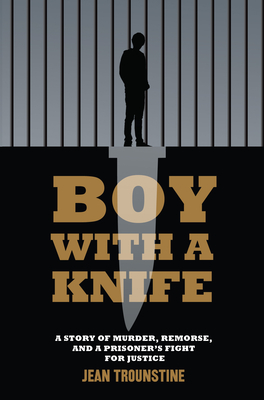 $17.95

Usually Ships in 1-5 Days
Description
---
Nearly a quarter of a million youth are tried, sentenced, or imprisoned as adults every year across the United States. On any given day, ten thousand youth are detained or incarcerated in adult jails and prisons.
Putting a human face to these sobering statistics, Boy With A Knife tells the story of Karter Kane Reed, who, at the age of sixteen, was sentenced to life in an adult prison for a murder he committed in 1993 in a high school classroom. Twenty years later, in 2013, he became one of the few men in Massachusetts to sue the Parole Board and win his freedom.
The emotional and devastating narrative takes us step by step through Karter's crime, trial, punishment, and survival in prison, as well as his readjustment into regular society. In addition to being a powerful portrayal of one boy trying to come to terms with the consequences of his tragic actions, Boy With A Knife is also a searing critique of the practice of sentencing youth to adult prisons, providing a wake-up call on how we must change the laws in this country that allow children to be sentenced as adults.
About the Author
---
Jean Trounstine is the author of the highly praised SHAKESPEARE BEHIND BARS: The Power of Drama in Women's Prison, about her decade directing plays and teaching at Framingham Women's Prison in Massachusetts. She has written numerous articles on prison issues for Boston Magazine, the Boston Globe Magazine, and other publications, and has been the subject of many articles, radio broadcasts (NPR, The Connection) and TV shows (The Today Show). She is involved in prison activism and speaks often on the subject here and abroad.