Cannelle et Vanille Bakes Simple: A New Way to Bake Gluten-Free (Hardcover)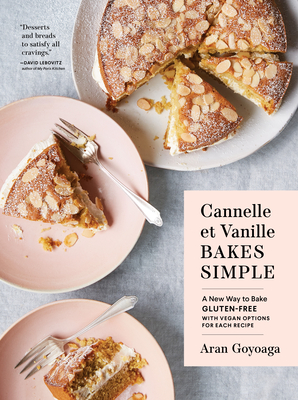 $40.00

Usually Ships in 1-5 Days
Description
---
Cannelle et Vanille's Aran Goyoaga shares 100 recipes that showcase how uncomplicated and delicious gluten-free baking can be. Her previous cookbook was a Most-Anticipated Fall Cookbook from Food & Wine, Food52 and Bon Appetit, a New York Times Holiday Books Pick, and a 2020 James Beard Award Semifinalist.

Cannelle et Vanille Bakes Simple is all about easy-to-follow, gluten-free recipes for enticing breads, cakes, pies, tarts, biscuits, cookies, and includes a special holiday baking chapter. 
 
Aran also shares her gluten-free all-purpose baking mix so you can whip up a batch to keep in your pantry. An added bonus is that each recipe offers dairy-free substitutions and some are naturally vegan as well. With inventive, well-tested, recipes and Aran's clear guidance (plus 145 of her stunning photos), gluten-free baking is happily unfussy, producing irresistibly good results every time. 
 
Recipes include:

   • One-Bowl Apple, Yogurt, and Maple Cake
   • Double Melting Chocolate Cookies
   • Honeyed Apple Pie
   • Buttery Shortbread
   • Lemon Meringue Tartlets
   • Baguettes, brioche, and boules
   • Crispy Potato, Leek, and Kale Focaccia Pie
   • Pumpkin and Pine Nut Tart
   • And so many more tempting recipes
About the Author
---
ARAN GOYOAGA is a cookbook author, blogger, food stylist, and photographer. Aran was born and raised in the Basque Country, in northern Spain, where her maternal grandparents owned a pastry shop and her paternal grandparents live off the land. Her blog, Cannelle et Vanille, is a two-time James Beard Award finalist. Her first book, Small Plates & Sweet Treats, was named one of the top cookbooks of 2012 by Sara Moulton on Good Morning America and praised by the New York Times and GOOP. It was featured on Amazon's homepage as a "Pick" for May 2016.

Aran's Instagram is a world-renowned culinary account, lauded by Food & Wine, In Style, The Kitchn, and more. She has a close professional relationship with Amazon Kitchen, Amazon Go, and Amazon Echo and has also partnered with Taittinger, Le Veuve Clicquot, American Express, Kitchen Aid, and Kashi.

She lives in Seattle with her husband and two children.
Praise For…
---
2022 IACP Cookbook Award Nomination

"These recipes manage to pull off the rare and difficult feat of being simultaneously beautiful, delicious, and truly approachable for the home baker. That they're also gluten-free, and in many cases vegan, gives them a touch of the magical, a quality Aran herself possesses."
—Claire Saffitz, author of Dessert Person

"Aran offers up an array of desserts without gluten that will satisfy any cravings, even if you're not gluten-free. The bread recipes ensure that beautiful loaves of bread (and even bagels!) are within the reach of all, and cookie-lovers will find something delicious and satisfying."
—David Lebovitz, author of My Paris Kitchen

"[A] veritable treasure trove for the gluten-averse and those who love them."
—Vanity Fair

"Just in the past few years, gluten-free baking has undergone a massive renaissance. What used to be lackluster alternatives for the gluten intolerant have streamlined into a wide world of luscious treats we all want to eat. Someone we can thank for that shift is Aran Goyoaga."
—Food52

"Each recipe has a blend of ingredients calibrated to ensure that your end result isn't a great gluten-free baked good, it's a great baked good, period."
—Washington Post

"Aran's book, filled with beauty and an abundance of staples, breads, and pastries, is the baker's companion for those who long for artisanal, gluten-free delights."
—Laurel Gallucci, author of Sweet Laurel and Sweet Laurel Savory
 
"Aran's superpower is her ability to create absolutely stunning recipes that are simple, accessible, and filled with love. . . . Cannelle et Vanille Bakes Simple is nothing short of a masterpiece and exactly what we've come to expect from Aran."
—Zoë François, cookbook author and Magnolia Network host
 
"Whether you're looking for gluten-free recipes or just baking inspiration, this wonderful book is for you."
—Kerry Diamond, founder of Cherry Bombe
  
"Cannelle et Vanille Bakes Simple is the gluten-free baking bible we all need. Aran has done an incredible job of making a subject that can be overwhelming and mysterious simple and accessible."
—Odette Williams, author of Simple Cake

"The combination of Aran's talents as a pastry chef (and baker) along with her heartachingly beautiful styling and photographs makes for a spellbinding book that may never leave your kitchen."
—Amy Chaplin, James Beard Award-winning author of Whole Food Cooking Every Day
 
"I am not experienced with gluten-free baking. . . . But, reading Aran's recipes made me believe that I could excel at all of these efforts."
—Carla Lalli Music, author of Where Cooking Begins

"Goyoaga's latest baking book continues her reputation for quality. Recommended for bakers with gluten-free diets but could easily be used by others too."
—Library Journal