Galloping Gertie: The True Story of the Tacoma Narrows Bridge Collapse (Hardcover)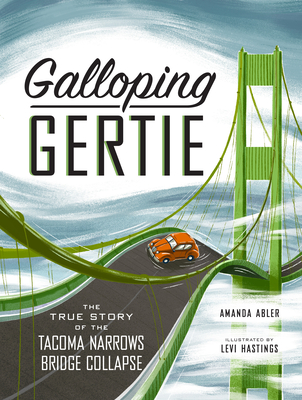 $18.99
Title is Backordered
Description
---
This compelling nonfiction picture book captures the story of the infamous collapse of the first Tacoma Narrows Bridge in Washington State.

The story of Galloping Gertie, the first Tacoma Narrows Bridge, is captured through the eyes of a young boy who not only watches the bridge being built, but also witnesses its spectacular collapse not long after the bridge is opened. Author Amanda Abler tells the bridge's dramatic story in a factual and engaging way that makes the science behind the collapse approachable to young readers. In addition to the narrative, the book concludes with a deeper look into why the bridge collapsed and how engineers continue to learn from this infamous engineering failure.
About the Author
---
AMANDA ABLER grew up in New Hampshire where she developed a love of snow, being on the water, and maple syrup. Pursuing her interest in science, she earned a B.S. in biology from Massachusetts Institute of Technology. She loves writing nonfiction because of all the interesting things she gets to learn and the new people she gets to meet. Amanda lives in Seattle with her family and their small, ferocious dog, Bear. She is also the author of The Spirit of Springer, which is her authorial debut.

LEVI HASTINGS is an illustrator and cartoonist based in Seattle. His work reflects his lifelong obsessions with natural science, travel, history, and queer culture. He's been published in a wide range of outlets, from regional papers like the Stranger to national periodicals like the Washington Post Magazine. He is also the illustrator of The Spirit of Springer.
Praise For…
---
"Depicting both the linearity of suspension cables and the chaos of fracturing supports, aided by well-integrated onomatopoeia, the art captures the crucial moments of swaying and breaking with remarkable accuracy and pathos."--Kirkus Review

"Pictures illustrating the science behind the collapse are sure to fascinate budding engineers."--Seattle's Child