You Got a Phone! (Now Read This Book) (Laugh & Learn®) (Paperback)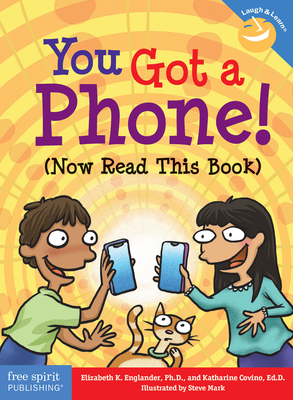 $10.99

Usually Ships in 1-5 Days
Description
---
Kids learn about the super awesome powers of their phones—and how to use them safely.
Phones are super fun, really convenient, and amazingly useful tools! But when kids and smartphones are together, problems can pop up. This award-winning book offers fun and straight-to-the-point advice for kids who have phones and parents who want to keep phone trouble at bay. 
Kids need to know about the screen-related cyberbullying, neurological changes, and sleep problems that come with having a phone—before it becomes an issue.
You Got a Phone! (Now Read This Book)
features a humorous yet supportive tone and hilarious illustrations that draw readers in and keep them engaged. Kids can do awesome things with their phones, and this book shows them how. 
Starting with six basic phone rules to help keep kids safe online with a healthy life balance,
You Got a Phone! (Now Read This Book)
also includes information on:
How to avoid muddled misunderstandings
Bullying, cyberbullying, and phone-y meanness
Safely posting and sharing photos online and how to avoid phone-related stress or anxiety
At the end of each chapter,
You Got a Phone! (Now Read This Book)
provides kids with additional tips and information for smart and safe phone use, making this timely addition to the popular Laugh & LearnⓇ series the perfect book for any kid with a new phone.
Laugh & Learn Series
Self-help, kid-style! Realistic topics, practical advice, silly jokes, fun illustrations, and a kid-centric point of view all add up to one of the most popular series that young people turn to for help with school, families, siblings, and more. Kids ages eight to thirteen can tote these pocket-size guides anywhere and learn to slash stress, give cliques and rude people the boot, get organized, behave becomingly, and in general hugely boost their coping skills.
About the Author
---
Elizabeth Englander is a college professor who has spent more than 25 years doing research and thinking about ways to help kids be happier, less worried, and make more friends as they grow up. She's written eight books and about a hundred really nerdy, technical articles in research journals. She likes writing, riding her bike, and very noisy power tools.  She has an equally nerdy husband and three kids and lives in Boston, Massachusetts.

Katharine Covino is a college professor who teaches teachers how to teach. She's been a teacher for almost 20 years. She's interested in finding ways of helping young teachers who are just starting out. She also writes about her work asking young kids interesting and tough questions. She believes that all students should be able to see themselves reflected in the books and stories they read. When she's not teaching or writing, Katharine tries to keep up with her kids. Despite her very best efforts, they are all faster swimmers, hikers, and skiers than she is. She also tries to make them laugh, and sometimes she is successful. Katharine lives near Boston, Massachusetts.

Steve Mark is a freelance illustrator and a part-time puppeteer. He lives in Minnesota and is the father of three and the husband of one. Steve has illustrated many books for children, including the Little Laugh & Learn series and all the books in the Laugh & Learn® series for older kids.
Praise For…
---
2023 National Parenting Product Award Winner
"If you're expecting your first cellphone this holiday season, pick up
You Got a Phone (Now Read This Book!)
by Elizabeth K. Englander and Katharine Covino. It will give you tips far beyond what you'll find in your phone's manual!"
— New Moon Girls
"Unreservedly recommended."
— Children's Bookwatch
"As families and caregivers carefully weigh the pros and cons of entrusting their children with cell phones, the actual recipients of these devices––children––may lack the intellectual capacity and emotional maturity to navigate their newfound independence. Drs. Covino and Englander's 
You Got a Phone!
 provides essential tools for productive cell phone usage, encouraging readers to pause, employ impulse control, and maintain a healthy life balance. Steve Marks' witty illustrations pair perfectly with this text, providing a light-hearted perspective to this common-sense guide. Insightful, research-based, and developmentally appropriate, 
You Got a Phone! 
should be a requirement for ALL children receiving a cell phone. In fact, why not buy a copy and wrap it with a bow to present alongside the shiny new device? Then, you will be content knowing that you set your child up for a successful transition toward independence!"
— Dr. Sharon Ryan, Literacy and Social Studies Curriculum Coordinator
"Aimed at middle-grade students, 
You Got a Phone!
 is an informative, fun, and truly educational handbook on the care and feeding of a new cell phone. The layout ensures a smooth and fast read with its colorful and often very funny illustrations. As an adult cell phone owner, I found the advice and information to be relevant and sensitive to various configurations of home life and family. Frequent phone foibles, and how to avoid them, are wisely and hilariously discussed and illustrated. There is just so much in this book that can help kids become thoughtful, considerate, and careful phone users—and good humans. What a great book to read 
with
 your child!"
— Annamary Consalvo, Associate Professor, Literacy