How Language Began: The Story of Humanity's Greatest Invention (Paperback)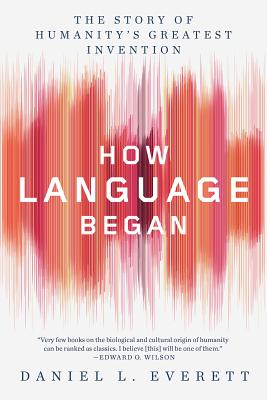 $19.95

Usually Ships in 1-5 Days
Description
---
A Buzzfeed Gift Guide Selection
"Few books on the biological and cultural origin of humanity can be ranked as classics. I believe [this] will be one of them." — Edward O. Wilson
At the time of its publication, How Language Began received high acclaim for capturing the fascinating history of mankind's most incredible creation. Deemed a "bombshell" linguist and "instant folk hero" by Tom Wolfe (Harper's), Daniel L. Everett posits that the near- 7,000 languages that exist today are not only the product of one million years of evolution but also have allowed us to become Earth's apex predator. Tracing 60,000 generations, Everett debunks long- held theories across a spectrum of disciplines to affi rm the idea that we are not born with an instinct for language. Woven with anecdotes of his nearly forty years of fi eldwork amongst Amazonian hunter- gatherers, this is a "completely enthralling" (Spectator) exploration of our humanity and a landmark study of what makes us human.
"[An] ambitious text. . . . Everett's amiable tone, and especially his captivating anecdotes . . . , will help the neophyte along."—
New York Times Book Review
About the Author
---
Daniel L. Everett is the Dean of Arts and Sciences at Bentley University. He has published over 100 articles and twelve books on linguistic theory, including The Dark Matter of the Mind: The Culturally Articulated Unconscious. He lives in Waltham, Massachusetts.