SPQR: A History of Ancient Rome (Paperback)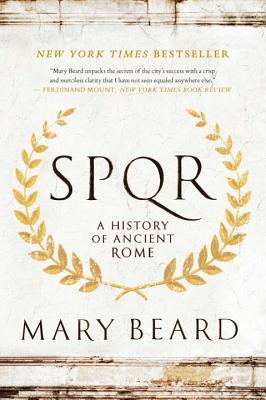 Description
---
New York Times Bestseller

A New York Times Notable Book

Named one of the Best Books of the Year by the Wall Street Journal, the Economist, Foreign Affairs, and Kirkus Reviews

Finalist for the National Book Critics Circle Award (Nonfiction)

Shortlisted for the Cundill Prize in Historical Literature

Finalist for the Los Angeles Times Book Prize (History)

A San Francisco Chronicle Holiday Gift Guide Selection

A New York Times Book Review Editors' Choice Selection
A sweeping, "magisterial" history of the Roman Empire from one of our foremost classicists shows why Rome remains "relevant to people many centuries later" (Atlantic).
In SPQR, an instant classic, Mary Beard narrates the history of Rome "with passion and without technical jargon" and demonstrates how "a slightly shabby Iron Age village" rose to become the "undisputed hegemon of the Mediterranean" (Wall Street Journal). Hailed by critics as animating "the grand sweep and the intimate details that bring the distant past vividly to life" (Economist) in a way that makes "your hair stand on end" (Christian Science Monitor) and spanning nearly a thousand years of history, this "highly informative, highly readable" (Dallas Morning News) work examines not just how we think of ancient Rome but challenges the comfortable historical perspectives that have existed for centuries. With its nuanced attention to class, democratic struggles, and the lives of entire groups of people omitted from the historical narrative for centuries, SPQR will to shape our view of Roman history for decades to come.
About the Author
---
Mary Beard is the author of the best-selling The Fires of Vesuvius and the National Book Critics Circle Award–nominated Confronting the Classics and SPQR. A popular blogger and television personality, Beard is a regular contributor to the New York Review of Books. She lives in England.
Praise For…
---
Beard tells this story precisely and clearly, with passion and without technical jargon…SPQR is a grim success story, but one told with wonderful flair.

— Greg Woolf - Wall Street Journal

Though she here claims that 50 years of training and study have led up to SPQR, Beard wears her learning lightly. As she takes us through the brothels, bars, and back alleys where the populus Romanus left their imprint, one senses, above all, that she is having fun.

— James Romm - New Republic

By the time Beard has finished, she has explored not only archaic, republican, and imperial Rome, but the eastern and western provinces over which it eventually won control…She moves with ease and mastery though archaeology, numismatics, and philology, as well as a mass of written documents on stone and papyrus.
— G. W. Bowersock - New York Review of Books

In SPQR, her wonderful concise history, Mary Beard unpacks the secrets of the city's success with a crisp and merciless clarity that I have not seen equaled anywhere else.

— Ferdinand Mount - New York Times Book Review

Beard does precisely what few popularizers dare to try and plenty of dons can't pull off: She conveys the thrill of puzzling over texts and events that are bound to be ambiguous, and she complicates received wisdom in the process. Her magisterial new history of Rome, SPQR…is no exception…. The ancient Romans, Beard shows, are relevant to people many centuries later who struggle with questions of power, citizenship, empire, and identity.

— Emily Wilson - The Atlantic

A masterful new chronicle…. Beard is a sure-footed guide through arcane material that, in other hands, would grow tedious. Sifting myth from fact in dealing with the early history of the city, she enlivens—and deepens—scholarly debates by demonstrating how the Romans themselves shaped their legendary beginnings to short-term political ends…. Exemplary popular history, engaging but never dumbed down, providing both the grand sweep and the intimate details that bring the distant past vividly to life.
— The Economist
Coverage from NPR