Silly Symphonies Volume 1: The Complete Disney Classics 1932-1935 (Hardcover)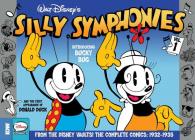 $49.99
Title is Backordered
Description
---
After more than 80 years—the complete Silly Symphony newspaper strips are collected in English for the first time ever! The artwork for these rare strips has come straight from the Disney vaults. Each page has been meticulously colored using, as a guide, the original bound file copies that belonged to Walt Disney himself!

This first of four volumes includes all the strips featuring Bucky Bug, the first Disney character to be originated in newspaper comics. The book also includes the very first Donald Duck newspaper strip—an adaptation of The Wise Little Hen. Other classic adaptations are Birds of a Feather, Penguin Isle, The Boarding School Mystery, The Robber Kitten, and Cookieland. Plus, the "Mickey Mouse Movies" bonus toppers!
About the Author
---
Charles Alfred Taliaferro was born in Montrose, Colorado on August 29, 1905 and moved with his family to Glendale, California in 1918. "I knew I was going to be a cartoonist," he told interviewer Jim Korkis in 1968. "I've always believed that if you want anything bad enough and you work hard enough for it, eventually you'll get it." In the middle of the Great Depression in 1931 he learned that the Walt Disney Studio had jobs available. "I went in and was hired on the spot: January 5, 1931," he recalled. At first he inked Floyd Gottfredson's Mickey Mouse newspaper strip. He then went on to draw the Silly Symphonies Sunday page, where on September 16, 1934 he first drew Donald Duck, the character with whom he would become forever associated.
Praise For…
---
"A high quality presentation (of) these seldom seen Disney treasures in a permanent collection." –Christian Science Monitor