Talking to Children About Divorce: A Parent's Guide to Healthy Communication at Each Stage of Divorce (Paperback)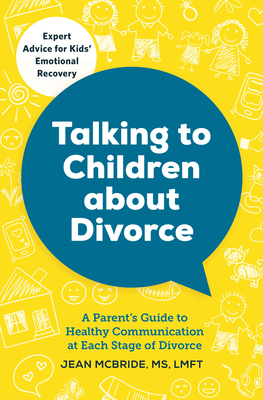 $13.99

Usually Ships in 1-5 Days
Description
---
Marriage and family therapist Jean McBride has helped over 20,000 families navigate divorce. Now she shares her expertise with an in-depth guide to discussing divorce with your kids so you can support your child's adjustment throughout the entire divorce process.
In
Talking to Children About Divorce,
Jean McBride provides you with the tools and encouragement to effectively communicate with your child about divorce. McBride brings her more than twenty-five years of specializing in divorce to guide you through crucial but difficult conversations and cultivate an environment of love and support throughout the divorce process. You'll learn how to have honest conversations about different situations and emotions that may arise during divorce—from breaking the news to understanding resistance.
Whether you're beginning the divorce process, or have been working through it for a while,
Talking to Children About Divorce
offers practical advice that will contribute positively to your child's emotional wellbeing.
Learn to initiate open communication, with:
Concrete actions to help your children weather the emotions of divorce.
Useful scripts to guide you through a variety of situations throughout the divorce process.
Simple steps to improve communication, both with your former spouse and with your children.
10 tips to maintain co-parenting success and promote healthy, happy, well-adjusted children.
About the Author
---
Jean McBride is a licensed private practice marriage and family therapist in Fort Collins, Colorado. She has worked with families dealing with divorce and remarriage for over 25 years. She is the president of Divorce Transitions, where she has developed curriculum and taught court-ordered parenting classes to over 20,000 divorcing parents. She is the author of Encouraging Words for New Stepmothers and the online course Are You Ready to Remarry?
Praise For…
---
"Jean McBride has created an excellent resource for parents coping with the challenges of divorce and parenting. Reflecting her oft-used suggestion in the book to 'gently and compassionately' approach various situations, McBride models this method beautifully, using a gentle approach with compassionate understanding for parents in an extremely difficult situation. McBride has created a step-by-step manual with concrete, scripted examples of how to approach children and what to say for a comprehensive array of issues. She has spot-on observations, while integrating information about normal child development with the needs and processes of divorce. Know that I will highly recommend this book to all of my clients confronting divorce."- Rebecca Jedel, PhD, Licensed Clinical Psychologist

"Parents searching for a resource to help them effectively communicate with children about divorce will find Talking to Children About Divorce an excellent choice. Jean McBride's years of experience as a therapist and divorce educator underlies her caring and knowledgeable approach to offering insights, clear recommendations, and meaningful examples of good communication. She takes a positive approach to the key issues and common questions that both parents and children have about this important change, encouraging parents to focus on what's best for children. This book is long overdue." - Kay Pasley, EdD, Professor Emerita, Family and Child Sciences, Florida State University

"This is a great guide for parents going through a divorce or for those who have already been divorced and are struggling to communicate with children having trouble with the transition. The real-life examples and simple tips make it easy to put the book into action. Research is showing that children from divorced homes can grow up to be just as happy, healthy, and successful as children who grow up in two-parent homes as long as they receive some additional support, and this book offers ways to give them that."- Karen Becker, Life Coach and Author ofCo-Parenting When Your Ex Won't