Your Career in Animation (2nd Edition): How to Survive and Thrive (Paperback)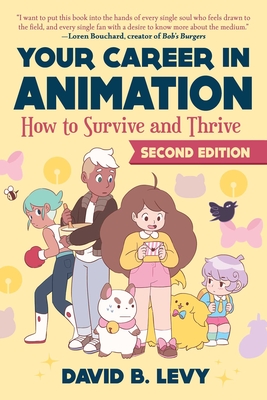 $19.99
Title is Backordered
Description
---
A Newly Revised Edition of the Go-To Guide for Any Animation Artist!

"Your Career in Animation is the most comprehensive and valuable book on animation careers that you'll ever need." —Bill Plympton, Animator / Producer

Whether you want to break into the animation industry or "toon up" to a better career, this comprehensive guide will show you how. A leading animation professional surveys the field and shares the advice of more than one hundred and fifty top talents in the business of making toons— including Brooke Keesling, head of animation talent development at Bento Box, Mike Hollingsworth, supervising director of BoJack Horseman; Andrea Fernandez, art director on The Cuphead Show! PES, Oscar-nominated stop-motion director of Fresh Guacamole; Linda Simensky, head of content for PBS Kids; Minty Lewis, co-creator of The Great North; Ross Bollinger, YouTube sensation with his Pencilmation channel, and executives from Nickelodeon, Disney TVA, Titmouse, Inc., Frederator, PBS Kids, Netflix, 9 Story Media Group, Cartoon Network; and dozens of others. Learn how to:

• Get the most out of your animation education
• Build a portfolio, reel, and resume
• Keep your skills marketable for years to come
• Network effectively
• Learn from on-the-job criticism
• Cope with unemployment
• Start your own studio or build an indie brand online
• Pitch and sell a show of your own
• And more!

Also included are invaluable resources such as animation schools, societies, film festivals, events, Web sites, and publications.

Allworth Press, an imprint of Skyhorse Publishing, publishes a broad range of books on the visual and performing arts, with emphasis on the business of art. Our titles cover subjects such as graphic design, theater, branding, fine art, photography, interior design, writing, acting, film, how to start careers, business and legal forms, business practices, and more. While we don't aspire to publish a New York Times bestseller or a national bestseller, we are deeply committed to quality books that help creative professionals succeed and thrive. We often publish in areas overlooked by other publishers and welcome the author whose expertise can help our audience of readers.
About the Author
---
David Levy is the author of Your Career in Animation: How to Survive and Thrive, the first career guide for animation artists working in North America. Levy has been an animation director for six series to date, including Blue's Clues, Blue's Room, Pinky Dinky Doo, The Electric Company, and Assy McGee. On his own, Levy has completed six, award-winning independent animated films. Levy has served as President of ASIFA-East since 2000. He teaches animation at Parson's School of Design, The School of Visual Arts, and New York University's Tisch School of the Arts. He regularly lectures at Pratt Institute and the Rhode Island School of Design. In 2007, David Levy signed a development deal for his own series creation and developed a TV property for an independent producer.
Praise For…
---
"I want to put this book into the hands of every single soul who feels drawn to the field, and every single fan with a desire to know more about the medium. The industry needs new voices. One of those new voices could be yours." —Loren Bouchard, creator of Bob's Burgers
 
"Behold! David Levy has distilled very hard earned wisdom in this book that shall be monumentally helpful and inspiring to all those starting their adventures in our beloved animation industry." —Jorge Gutierrez, creator of El Tigre, The Book of Life, Maya and The Three
 
"David Levy's wonderfully comprehensive book will help anyone with a passion for animation to navigate a long, rewarding career in this fascinating, ever-changing world!" —Brooke Keesling, head of animation talent development at Bento Box Entertainment LLC
 
"I picked up the first edition of Your Career in Animation when I was starting my career in animation. Animation isn't accounting or banking. There's no clear route or rules to starting a career, you just have to find your way, and with the knowledge in a book like this the path is a little bit more illuminated." —Mike Hollingsworth, supervising director, BoJack Horseman

"David Levy has blessed us with a comprehensive tome on careers at every level of animation, from the budding beginner to the dazzling demigod." —Minty Lewis, cocreator, The Great North

"It's a cartoon jungle out there, but David Levy's career manual is full of valuable advice and anecdotes for the industry-oriented, the independent, novice, student, or veteran animator." —John Canemaker, 2006 Academy Award Winner; Director of Animation,
NYU Tisch School of the Arts 

"A long time ago I used my super powers to travel into the distant future and read David Levy's incredibly informative Your Career in Animation. And today, I have my own show, am married to five super models, and have an army of giant ninja robots at my command. Coincidence? I think not." —Mr. Warburton, creator of Cartoon Network's Codename: Kids Next Door 

"David Levy has presented a fantastic road map through the animation industry, as well as a most engaging read." —Linda Simensky, PBS Kids