Henry and Glenn Forever and Ever (Henry & Glenn #4) (Paperback)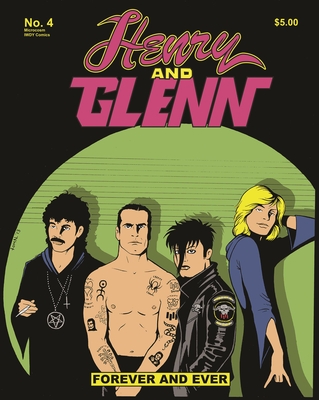 $5.00

Usually Ships in 1-5 Days
Other Books in Series
This is book number 4 in the Henry & Glenn series.
Description
---
In the final installment of the greatest love story ever told, about the domestic life of Henry and Glenn as well as their neighbors Daryl and John, we are treated to three new short stories. This issue includes the shocking conclusion to the story of Glenn's mother living with them (spoiler alert: zombies), Glenn and Wendy make a daring rescue from Space City after Henry gets a pep talk from Lemmy, and Henry saves Glenn from some giant lizards after his drummer quits. It's a true testament to the power of love to overcome even the biggest, manliest egos of our time. The book also features dozens of pin up art and full color covers from the original serialized series. Will our lovers continue to frustrate, inspire, and show us the way?

About the Author
---
Tom Neely is a painter and cartoonist living in Los Angeles. He is best know for the cult-hit indie comic book Henry and Glenn Forever, which he created with his artist collective the Igloo Tornado, whom were voted LA Weekly's Best People in LA 2011. His art has been featured in galleries in California and New York, in dozens of magazines and literary journals and on album covers. His debut graphic novel, The Blot, earned him an Ignatz Award and made it onto several of the industry's "Best of 2007" lists as well as The Comics Journal's Best Graphic Novels of the decade 2000-2010. He authored the Melvins comic book, Your Disease Spread Quick, and a collection of comic strip poems called Brilliantly Ham-fisted. His most recent painted novel, The Wolf, was released in 2011 to critical acclaim. He is currently working on a new mini series continuing the story of Henry and Glenn Forever and Ever, as well as making plans for his next graphic novel, The Devil.