Patina: 300+ Coloration Effects for Jewelers & Metalsmiths (Hardcover)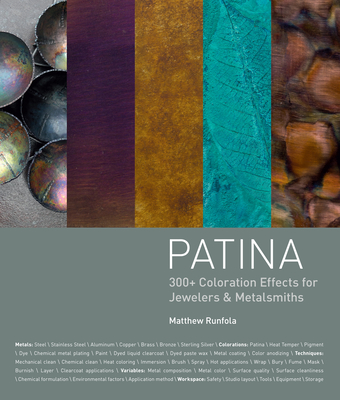 $37.99

Usually Ships in 1-5 Days
Description
---
An explosion of patination methods from beginner to advanced skill levels!

Patina offers a collection of over 300 metal patination recipes, application instructions, and full-sized samples for anyone working in metals, including jewelers, sculptors, and metal artisans.

This all-skill-level book covers steel, stainless steel, copper, brass, bronze, silver, and aluminum. Neatly organized by metal type then by color for ease of reference. Patina discusses variables that affect the overall metal coloration such as surface preparation, chemical formula, application method, and more. Cross-references take you to the variety of patination techniques offered, including immersion, brush application, spraying, fuming, layering, using resists, hot and cold applications, and more. All recipes feature step-by-step illustrated instructions. Patina also discusses safety issues and handling and disposing of hazardous or corrosive materials as well as proper ventilation. This book is an inspirational resource, a how-to guide, and a book that you have long been waiting for.
About the Author
---
Matthew Runfola is the proprietor of Runfola Studios, a high-end contemporary furniture and sculpture design/build business based in Chicago, Illinois, focusing on unique surface patinas and colorations. Runfola currently heads the Metal Sculpture Department at the Evanston Art Center, and his works can be found in numerous private collections worldwide.
Praise For…
---
"I am totally blown away! ... This is one book that I will read cover to cover. ANYONE interested in adding color to their jewelry should own this. I learned so much that I cannot wait to try. I know of no university classes that even come close to delving into the subject with such intensity. Not only are the examples of finished jewelry inspiring, the entire book is well organized and the photos are clear and beautifully presented. This book should be in every jewelry artists library." --Lexi Erickson, President, Wubbers University

"This is a serious serious book! Matthew Runfola has written what might well become the bible of Patina, which details over 300 patination recipes for all different types of metal (steel, stainless steel, copper, brass, bronze, silver, and aluminum). Packed with charts and formulas that will make your decision-making process easier, the book is arranged with information up front, followed by a directory of samples, and finishing with the recipes used to create those samples." --Beading Arts

"This book contains many samples and ideas for jewelry pieces and other metal working projects. Explanations are clear and concise. There is an excellent section on general techniques which can help with patterns for self-created projects. It offers a broad array of options for patina effects on metal jewelry and I was very pleased." --Crafter's Corner

"The author, Matthew Runfola, knows everything about his subject. He includes explanations of exactly why the properties of each kind of surface you treat will change how the patina you use appears. This is as distinctly unique and useful as being able to understand the repeatable effects of a science experiment." --Pretty Kitty Dog Moon Jewelry

"The book is destined to become a classic reference for metal workers at all skill levels.... [Y]ou'll find yourself thanking Runfola for his thorough research..." --Metal Clay Artist