3-Minute Devotions for Women: 180 Inspirational Readings for Her Heart (Paperback)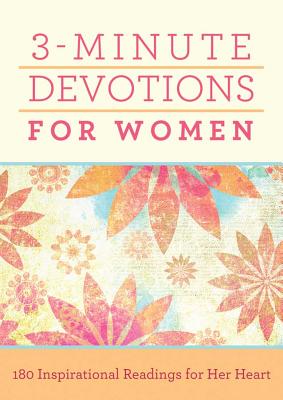 $5.99

Usually Ships in 1-5 Days
Description
---
Got 3 minutes to spare?
You'll find the spiritual pick-me-up you desire in 3-Minute Devotions for Women.

Written especially the twenty-first-century woman, this delightful devotional packs a powerful dose of comfort, encouragement, and inspiration into just-right-sized readings for women on the go.

Minute 1: scripture to meditate on
Minute 2: a short devotional reading
Minute 3: a prayer to jump-start a conversation with God

Take time to pause, reflect, rejuvenate by reading scripture, encouraging words, and a prayer starter to begin a dialogue with God. No matter what your day brings, this just-right-sized inspiration is guaranteed to be just the pick-me-up you need in your faith walk.

This portable package makes a fabulous any-occasion gift for every woman.
About the Author
---
Barbour Publishing is a leading Christian book publisher offering bestselling books featuring exceptional value, biblical encouragement, and the highest quality. Barbour is the home of New York Times Bestselling author Wanda E. Brunstetter along with well-known fiction authors Gilbert Morris, Olivia Newport, Michelle Griep and many others. If your interest is Christian Living or Bible Reference, you'll find excellent titles by bestselling authors Josh McDowell, Jonathan McKee, Debora Coty, and Stephen M. Miller's The Complete Guide to the Bible.   Barbour also publishes the top classic devotionals God Calling by A.J. Russell, and Come Away My Beloved by Frances J. Roberts. With inspirational Christian books available in all genres--fiction for adults and children, Bible Promise books, devotionals, Bibles, Bible reference, puzzle books, and gift books there's something for everyone to enjoy.
 
Praise For…
---
I loved the little devotionals. The author was able to pack a lot of thought and inspiration into each page. It's the perfect amount to read when in a hurry or a great jumping off place for longer devotionals. These will make great gifts to the women in my family.
— Tima Murrell