The Bride Stripped Bare by Her Bachelors, Even: A Novel (Paperback)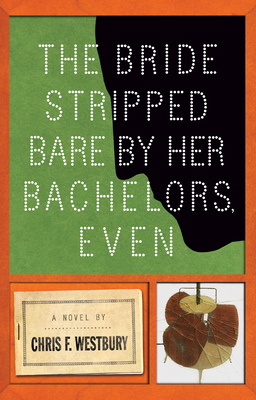 $17.95

Usually Ships in 1-5 Days
Description
---
This is a wonderful comic novel, about philosophy, the nature of art, the beauty of the ordinary, and about quirky, complete, night & day victims of obsessive–compulsive disorder. Two charming, over–anxious, germ–phobic friends, Isaac and Greg take a road trip from Boston to Philadelphia. They are both obsessed with Marcel Duchamp, his art and his ideas, and thus the destination has to be the largest collection of Duchamp in the world, The Philadelphia Art Museum, the actual place "The Bride Stripped Bare by Her Bachelors, Even" was to be delivered when it was cracked and broken in shipment. The piece is sometimes known as The Large Glass, and today it sits in the middle of a large gallery proudly displayed in its broken state which Duchamp repaired and then certified had been his intention all along.

The two men are driven in a rented disinfected Winnebago by Kelly, a beautiful art scholar who smells like a mixture of lemons and fresh sawdust. They intend to pick up an ancient chocolate grinder, an exact working sculptural copy of one used in a Duchamp painting. Isaac intends to grind his own pure chocolate, which will prevent the build–up or arterial plaque, because his mother died of a stroke. Every action has its own suitable reaction, and then some. Isaac hopes eventually to overcome his devotion to his many obsessions and to re–enter the world, evidently his version of the real world. He is not an unreliable narrator, he is a hyper–reliable narrator, consumed by his own attention and thrilled with the connections he sees everywhere all at once. Of course when he finally gets to the museum he must dress–up as a woman to visit the collection.
About the Author
---
Chris Westbury is a cognitive neuropsychologist at the University of Alberta in Edmonton. His work focuses on understanding the functional structure and neurological underpinnings of language. This is his first novel.
Praise For…
---
"Westbury's Bride Stripped Bare itself contains many layers. It has, among other elements, a road trip, an unusual love triangle, cross–dressing, anagrams, off–kilter theories of religion, a handmade chocolate grinder, and a see–how–many–balls–I–can–keep–in–the–air comic structure that adds to the novel's overall buoyancy." —Edmonton Journal

"Part treatise on art appreciation, part humorous on–the–road tale, neuropsychologist Westbury's debut novel offers a compelling story about the role art can play to disrupt, delay, and contribute to human engagement with the real world." —Booklist

"It's a sweet story, and it builds inevitably to a happy ending." —Kirkus

"Clever, funny, and fun, and filled with great discussions about art" —BookRiot

"Bright aesthetic discussion amid mishap; not just for the college–nostalgic but for anyone who enjoys a rush of ideas while being entertained." —Library Journal, Top Summer Reads 2014

"Westbury, a cognitive neuropsychologist at the University of Alberta (Edmonton), has plenty to say about art and attention, about the line between sanity and mental illness, and about the nature of a well–lived life... Westbury's debut is a call to pay attention, and a reminder of the rewards of patience and open eyes." —Barnes & Noble Review